This is their second — and last stop — on Day 1 of their joint campaign for the 10 Assembly bypolls ten days away and it's clear: it is bada bhai (elder brother) Lalu Prasad Yadav's stage and chhota bhai (younger brother) Nitish Kumar shares it.
It's not just that he's clearly the elder in the 'big brother-younger brother' by-play that makes Lalu own the stage in their first joint rally in over two decades since they broke up. It's the way he strides in late surrounded by gun-toting commandos — Nitish stands up to welcome him and be hugged by him — and speaks last. It's the manner in which Lalu sits astride his chair, as on a throne, while Nitish seems to subside into his.
Lalu is imperious, now admonishing a noisy section of the crowd that has assembled in the dusty grounds of a local school, and then cutting short a speaker's lengthy introductory remarks, commanding him to keep it short.
His is the tone of the emperor who brooks no dissent, not a recently jailed politician who has lost his parliamentary seat, is disqualified from contesting elections and whose party has lost successive assembly and Lok Sabha polls in the state he once ruled.
This is Lalu's show in a more significant way. He speaks after Nitish but it is almost as if he has set the tone for Nitish's speech.
Lalu speaks about how India needs to be saved from Narendra Modi and how he and Nitish will do it together. Lalu pledges to fight many evils — this is a battle between "mandal and kamandal" he says, while also railing against "social media" and the "internet", FDI in railways and insurance, price rise and the "bullet train". For him, all evils converge in the Modi government, which is "endangering the country".
It was sworn in at the Centre, he taunts, at the "inauspicious hour of 6.15 pm", a time when "mothers urge their children to keep awake, be watchful, not give in to sleep". It has presided over a series of disasters — ever since, by his count, a building has collapsed in Chennai, students were swept away by the river waters in Uttarakhand and Gopinath Munde died.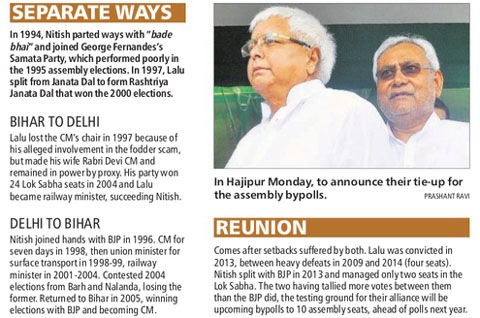 In his speech, just like Lalu, Nitish, too, paints a battle for the state's assembly bypolls being fought by an allegedly sinister "Centre" on one side — he is still coy about taking Modi's name.
The real problem, he says, is that Delhi is now in the grip of a party that has no link or association with the fight for the nation's freedom and which is now injecting the "poison" of communalism in the polity. It is a government that may have won a majority, he says, but it has done so through "prachar tantra", "jhoot tantra", "apvaad" ( propaganda and false claims). He talks of the CSAT controversy: "They showed big dreams to the young, who were misled and prevailed upon their parents to vote for them. And they are now placing obstacles in the way of civil services aspirants, denying them job opportunities".
For Nitish, on the other side of the battle lies "Bihar". But, curiously, the nearly two-term chief minister evokes Bihar in abstract ways — invoking names from its rich tradition of socialist politics and images from an ancient past. He makes no mention of the policy and programme of the government he led in the state from 2005 till the time he passed the baton to a partyman after the setback in the Lok Sabha polls.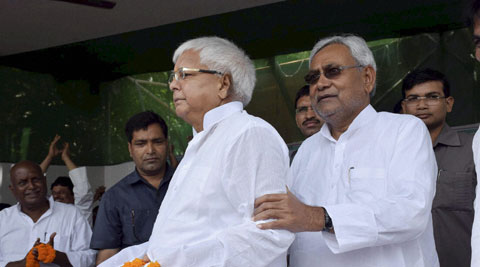 Nitish talks of Karpoori Thakur and Rammanohar Lohia who he claims have been overlooked for the Bharat Ratna. He talks of Bihar as "krantikariyon ki bhoomi".
Alongside Lalu at Mohiuddinagar, it is as if Nitish doesn't have a governance record to speak of, which he or his party's candidates can fight on. It is almost as if, in the company of Lalu, he has given up trying to make it a part of his appeal to Bihar's voter.
Earlier in the day, in Jamalpur in Hajipur, the two called their unity a "a call for consolidation of socialist and secular forces", not just for Bihar but for the country. Lalu even appealed to Mulayam Singh Yadav and Mayawati to come together to put up a joint fight for the "garib-gurba (the poor)" against the BJP and Nitish said that the BJP might "run the government but cannot run the country".
"BJP's president Amit Shah recently said Nitish is sitting in my lap. Chhota bhai bade bhai ke god me nahi baithega to kahan baithega (It is only natural for a younger brother to sit in lap of his elder brother)", said Lalu as Nitish smiled.
"RJD and JD(U) had to sink their differences and move ahead," said Nitish. "We have started our campaign from Vaishali that was the birthplace of the first republic. We are together to fight against the politics of whipping up a religious frenzy." Lalu Prasad interrupted Nitish to add: "Hamara jod balu aur cement ka jod hai (our combination is that of sand and cement)".
For all the latest India News, download Indian Express App