Bihar: Lalu and Nitish, if they add up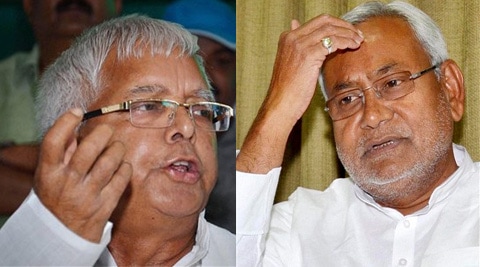 The RJD and JD(U) alliances together polled some 28 lakh votes more than the NDA.
A reunification of Lalu Prasad and Nitish Kumar would come with a statistical promise ahead of the assembly elections — the fronts the two power OBC leaders headed have together polled more votes in the Lok Sabha elections than the resurgent BJP backed by Ram Vilas Paswan and Upendra Kushwaha's parties.
The BJP and its partners the LJP and the RLSP got nearly 39 per cent of the votes, compared to 30 per cent by the RJD, the Congress and the NCP, and only 17 per cent by the JD(U) and its partner the CPI. Any coming together of the latter two fronts will, therefore, create a voter base that is theoretically worth 47 per cent, though that again would be subject to the same voters making the same choice in the assembly polls next year.
The RJD and JD(U) alliances together polled some 28 lakh votes more than the NDA. From nearly 3.37 crore votes polled, the BJP and its allies got 1.31 crore votes while the RJD alliance won just under 1.02 crore and the JD(U) alliance 61 lakh, nearly 70 lakh behind the NDA.
It was a difference of around 29 lakh votes between the NDA and the Lalu-led front tilted the balance in the former's favour, giving it 31 seats while the RJD and the Congress retained their previous tallies of four and two, with the NCP's Tariq Anwar the only gainer in this alliance.
A similar vote share had brought the NDA a similar number of seats in 2009, though the constituents were different. The JD(U) and the BJP had won 38 per cent of the votes in 2009, taking 32 seats; the BJP has replicated that with the Paswan's LJP and the Kushwaha's RLSP this time. On both occasions, Lalu was the principal opponent; his party has in fact improved on its vote share (from 19 per cent to nearly 21).
"If the prospect of Lalu and Nitish coming together is being discussed, it has its reasons," says JD(U) Rajya Sabha MP Ali Anwar. "There will be a consolidation of OBC, Dalit and EBC votes if both strong leaders join hands and bury their personal egos. It will be a very formidable, secular front. The two parties are in any case on the same side of the secular divide now."
Another senior JD(U) leader says the party will go back to appeasing the upper castes, particularly Rajputs and Bhumihars, to split the BJP voter base. "When the Samata Party, which later merged with the JD(U), was formed, we enjoyed great support from Rajputs and Bhumihars. It is time for churning and revisiting old calculations to prepare a strategy against the BJP onslaught," the leader says.
The RJD camp is reconciling itself to …continued »