RSS gives L K Advani illusion of choice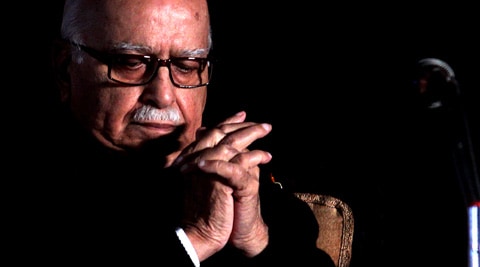 Advani issued a statement announcing his intention to stick to Gandhinagar. (Express Archive)
With the RSS once again stepping in to broker peace, veteran BJP leader L K Advani Thursday agreed to go along with the decision of the party and contest the Lok Sabha polls from Gandhinagar, a day after he precipitated a new crisis in the party by indicating that he wanted to move to Bhopal.
Advani's climbdown came after BJP chief Rajnath Singh announced that it was up to the former deputy prime minister to choose between Gandhinagar and Bhopal – seen as being part of a script written by the RSS.
"Today, Shri Rajnath Singh informed me that the Madhya Pradesh unit of the BJP has also suggested my name for contesting the Bhopal parliamentary seat. He has further informed me that after consulting all colleagues in the parliamentary board and the central election committee of the party, it has been agreed that the choice between the two parliamentary seats should be left to me," Advani said in a statement.
"I have decided to contest the 2014 general elections from Gandhinagar itself," he added.
The peace formula, sources said, was scripted after the party's prime ministerial candidate Narendra Modi met RSS chief Mohan Bhagwat and former BJP chief Nitin Gadkari met RSS leader Suresh Soni Wednesday night.
While Bhagwat left for Nagpur Thursday morning, his deputy, Bhaiyyaji Joshi, remained in the capital to oversee the resolution of the latest crisis in the BJP.
According to the plan, Modi called on Advani and "emphasised that the people of Gujarat are keen that Advani represent Gandhinagar Lok Sabha once again".
Leader of opposition in the Rajya Sabha, Arun Jaitley, also met Advani to pacify him and appealed to him to contest from Gandhinagar. Sushma Swaraj, who had met Advani Wednesday, also called on the party veteran, as also former party president Venkaiah Naidu.
Modi, Jaitley and Naidu, all of who did not meet Advani Wednesday, visited him Thursday according to the RSS plan to provide an honourable exit to the elder statesman, it is learnt.
Based on the feedback of these leaders, Rajnath Singh spoke to Advani over phone and assured him that he would make a public statement that Advani would be allowed to choose his seat, with the tacit understanding that Advani will pick Gandhinagar.
"I have consulted the members of the parliamentary board and the central election committee of the party on this issue telephonically since most of the members are traveling in various parts of the country. It is the unanimous view of the party that the choice of where to contest from should be left to Shri Advaniji himself," Singh said in a statement. "The party will respect the opinion of Shri Advaniji with regard to his choice of constituency for contesting the election."
With Rajnath providing an exit route, Advani issued a statement announcing his intention to stick …continued »