Impressive voter turn out in Kerala as 74% polling recorded
Kerala has 2.42 crore voters and 269 candidates are in the fray.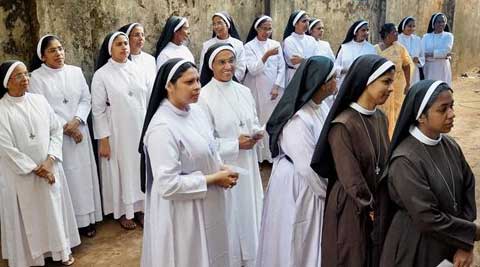 Catholic nuns waiting in queues to cast their votes at a polling station in Kochi on Thursday during voting for the third phase of the Lok Sabha elections. (PTI Photo)
Kerala, where polling in 20 Lok Sabha seats was held on Thursday, registered a provisional voter turnout of 73.6 per cent by 6 pm. In 2009, the polling percentage was 73.37 in the state.
The highest polling was reported from Vatakara, while the lowest was Pathanamthitta. In Vatakara, a traditional CPI (M) stronghold reported 81.4 per cent of polling, while Congress sitting seat Pathanamthitta registered only 65.8 per cent of polling.
Apart from Vatakara, other North Kerala Left bastions also reported huge voter turnout. At the same time, constituencies such as Thiruvananthapuram and Attingal reported only 68 per cent of polling.
The polling went off peacefully across Kerala, notwithstanding a few minor incidents of brawl at booths.  Union ministers Sashi Tharoor, K V Thomas, E Ahammed, BJP veteran O Rajagopal, CPI (M) polit buro member M A Baby and Congress spokesperson P C Chacko were among 269 candidates seeking mandate.
More than 50 per cent of polling was reported in all constituencies by noon. Chief Minister Oommen Chandy said the poll outcome would be a verdict against the "murder politics" of CPI (M). CPI (M) state secretary exuded confidence that that the elections would mark the rout of Congress in Kerala.