Kejriwal 'stopped' from meeting Modi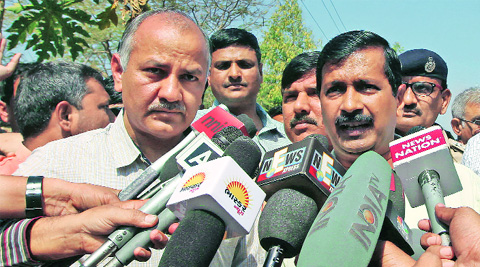 Arvind Kejriwal and Manish Sisodia in Ahmedabad on Friday. Javed Raja
High drama ensued on the outskirts of Gandhinagar on Friday when police "stopped" the car of Arvind Kejriwal and did not allow him to meet Gujarat Chief Minister Narendra Modi, whom the AAP leader accused of lying about the development in the state. 
The former Delhi CM had to wait for an hour at Sarghasan Chowkdi outside Gandhinagar and finally returned empty handed after he failed to get an appointment with Modi to give him a list of 17 questions on development claims in Gujarat. Kejriwal, who has pitched his Gujarat campaign attacking the BJP's PM candidate, had suddenly decided to meet him and question his decisions.
The road was barricaded, and riot control vehicles and heavy police were already in place when Kejriwal's Innova reached Sarghasan Chowkdi on way to meet Modi at his residence. Kejriwal, who was waiting in his car on the Sarkhej-Gandhinagar highway, told The Indian Express, "They have stopped us here and Manish (Sisodia) has gone to get the appointment."
Only Sisodia, a senior party colleague, was permitted to visit Modi's office, but came back disappointed. " We have not been given an appointment for today. They said they will try to get an appointment in the next three-four days," he said.
The police, however, had a different version. Gandhinagar SP Sharad Singhal asserted, "Kejriwal's car was not stopped, but they stopped here." He said: "I took Sisodia along with me to the CM's office, where he gave a written request."
The officer added, "We told Kejriwal he could take a tour of Gandhinagar if he wanted. But he said he would like to go to the airport." Kejriwal was scheduled to take a flight for Jaipur and will return to Ahmedabad on Saturday for a rally.
A group of around 20-25 suspected BJP members waved black flags and shouted anti-Kejriwal slogans at the spot where the former Delhi CM was waiting. The AAP convener had left for Gandhinagar soon after a 90-minute late media briefing in Ahmedabad.
"We wanted to meet Modi but were attacked. I am not a terrorist that he refused to meet me. Why is he scared of me? We have given a list of 17 questions to him," Kejriwal said at the Sanganer Airport in Jaipur on Friday afternoon.
On the third day of his Gujarat tour to gain first-hand experience of development claims of the state government, Kejriwal did not take question from the media and read out 17 points he wanted to raise during his meeting with Modi.
He attacked Modi for "favouring four-five big industrialists" and said, "People say you have such close relations with Mukesh Ambani that you have made Ambani family's son-in-law a minister. You made Saurabh Patel a minister."
Questioning the induction of tainted ministers Babu Bokhiriya (convicted in an illegal mining case) and Purushottam Solanki (accused in a fishing contract scam), …continued »