Kejriwal in UP: Don't make the mistake of electing Modi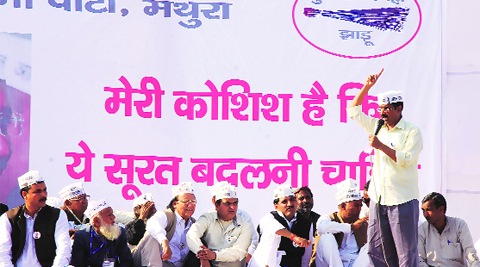 Kejriwal at the rally in Mathura on Sunday. Gajendra Yadav
A day after his Gujarat tour, Aam Aadmi Party leader Arvind Kejriwal continued his attack on BJP's PM candidate Narendra Modi and the Gujarat development model propagated by him. Addressing a gathering of around 2,000 people, mostly farmers, in Mathura, Kejriwal and other senior AAP leaders attempted to draw parallels between the conditions of farmers in Gujarat to those in UP.
Training guns on Modi again, Kejriwal said, "Don't make the mistake of electing Modi to power. If the truth of the condition of Gujarat farmers are known to other farmers, not a single person will vote for Modi."
"People used to praise Modiji and his Gujarat model. So, we went to all 26 districts in Gujarat to learn about the development that has taken place there. The condition of farmers there is similar to those in western Uttar Pradesh," Kejriwal said.
"Every chief minister has joined hands with some big corporate houses — if it was Jaypee here, it is Ambanis and Adanis in Gujarat," he said.
Even as corruption had become the main issue raised by the AAP in the Delhi Assembly polls, the party, in the run-up to the Lok Sabha polls seems to be raising an additional set of issues. At Mathura, party leaders took up the issue of land acquisition and compensation to farmers.
According to Kejriwal, farmers across the country were being exploited through a government-corporate nexus. "In UP, especially in Tappal and Mathura, land was forcibly taken away from all of you on the pretext of development. I had gone to Haryana a few days ago. The situation is similar there under Hoodaji's government…. The farmers there are unhappy. They said that their chief minister was more a property dealer than the head of the government," he said.
He alleged that the compensation given to farmers in return for their land less than half of what the middlemen got in the process.
Once again, Kejriwal attacked the media for the coverage given to Modi. Criticising the media for their extensive coverage given to the controversy surrounding his three-bedroom flat, Kejriwal said, "They (the media) do not show the truth of Modi — how he has sold Gujarat to the Ambanis and Adanis."
Lauding his party's government in Delhi, Kejriwal said, "Jo kaam Modiji ne 11 saal mein nahi kiya, woh humne 49 days mein kar dikhaya. Modiji ko sarkar chalani nahi aati. Gujarat is being run by the Ambanis and the Adanis."
Other senior AAP leaders also joined Kejriwal in their attack on Modi. "We stayed in Gujarat for four days, visited villages. In one village, the government took away farmers' land. The government said a solar energy project should be implemented here. Land was bought from farmers at Rs 50,000 per acre and the property dealers sold the same land to the government at Rs 27 lakhs per acre" said …continued »