Arvind Kejriwal ready to take on Narendra Modi in Varanasi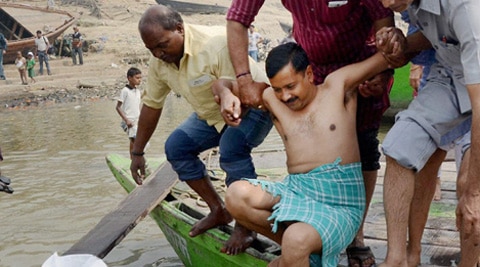 Kejriwal takes a dip in the Ganga at Rajghat in Varanasi on Tuesday. PTI
Arvind Kejriwal on Tuesday announced his candidature for the Varanasi Lok Sabha seat and challenged Narendra Modi to a debate on various issues, including development in Gujarat.
The announcement came at the end of a day that Kejriwal began with a dip in the Ganga, and which saw him being targeted with eggs and black ink by protesters ahead of the evening's election meeting.
The Aam Aadmi Party leader claimed credit for the Election Commission putting on hold the increase in the price of natural gas scheduled for April 1, but warned people that the "good news" would not last if they chose the "wrong government" in the elections.
Both the BJP and Congress were controlled by big corporate interests, Kejriwal said. "People are angry with the UPA. But who should replace them? The NDA? They too are controlled by the likes of Ambani. Modi rides in their helicopters, so does Rahul. Don't make the mistake of choosing either. They are the same," he said.
Kejriwal said he would fight Modi in Varanasi, but the people of the constituency would have to help him raise funds for the battle.
"I am ready to take up the challenge of contesting against Modi. Like Madan Mohan Malviya, who set up an entire university with donations, I too will come to you because I don't have the money (to fight the election)," he told a cheering crowd at the Benia Bagh Maidan.
"I invite Modi to a debate right here in Benia Bagh," Kejriwal said. "I want to know what he has to say. I want to know about Gujarat's development. He will have to come. And if does not, be sure that there is something fishy somewhere."
On Modi's claim that he would bring back black money stashed abroad, Kejriwal said: "I wrote to Modi asking what he had to say about the money in the Swiss bank accounts of Anil and Mukesh Ambani. He has not replied. I have brought their account numbers with me."
He then read out some numbers from a slip of paper, after warning camera crews to switch off. "Please stop recording. If you show these numbers on air, the Ambanis will send you legal notices," he said.
For a full year, the media had been perpetuating Modi's lies on Gujarat, Kejriwal said. "Media ne poore ek saal se jhooth faila rakha hai ki Gujarat mein baraa development hua hai." The truth, he said, was that "kisanon ki zameen chheen kar unko Adani aur Ambani ko Re 1 per square metre par de diya (the government snatched land from farmers and gave it to Ambani and Adani at Re 1/sq m)".
With Kumar Vishwas, the AAP candidate from Amethi, in tow, Kejriwal told the gathering that the 2014 elections were focused on two seats: Amethi and Varanasi. "The results …continued »