JD(U) MLAs want Nitish Kumar to stay, final call today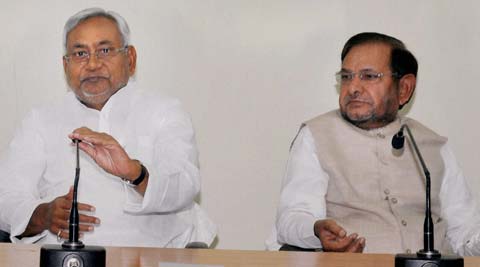 Nitish Kumar along with JD(U) national president Sharad Yadav address party MLAs in Patna on Sunday. (Source: PTI)
A day after he resigned as Chief Minister, JD(U) MLAs on Sunday unanimously chose Nitish Kumar as their leader and insisted that he should withdraw his resignation. While Nitish initially rejected their requests, he later sought a day's time after party MLAs continued to protest against his decision. The JD(U) legislature party is set to meet again on Monday to take a final call.
"Nitishji has sought a day's time… It is natural for him to seek time as he is deeply hurt. But we hope he will accept our offer and become CM again," said JD(U) spokesperson Sanjay Singh after the meeting.
Among those in the running for the CM's post are Narendra Narayan Yadav, Bijendra Yadav, Bashistha Narayan Singh and Bijay Kumar Choudhary. But these names were not discussed at the meeting on Sunday amid strong pro-Nitish sentiments.
JD(U) president Sharad Yadav, who had earlier justified Nitish's decision to resign and said he should not accept re-election as legislature party leader, faced protests at the meeting. He is learnt to have told MLAs that pressure must not be put on Nitish to become CM again. However, the MLAs refused to discuss any other name.
Delivering an impassioned 70-minute speech at the meeting, Nitish said it would be in the interest of the party and government to relieve him of post. "I am deeply hurt at the BJP calling my resignation drama. I want to work for the party and stregthen it. Since I led the election campaign, I have to take moral responsibility for the party's defeat," he said.
But the MLAs kept shouting pro-Nitish and even some anti-Sharad slogans. Senior minister Narendra Singh, who is said to wield influence on several party MLAs, insisted that Nitish should continue as CM till the assembly elections next year.
Meanwhile, RJD chief Lalu Prasad on Sunday denied reports that he had held talks with Sharad Yadav on the option of uniting to fight a resurgent BJP under Narendra Modi.
"I have not spoken to Sharad Yadav at all. We are holding a meeting of our party leaders on Monday. We are keeping a watch on political development in the state," said Lalu. Asked if he and Nitish would come together to fight the BJP, he said: "This question is untimely as we are not discussing it all."
Sources said though Lalu wants to support a JD(U) government to keep the BJP out, he does not want to rush through the move. Though three RJD MLAs — Samrat Choudhary, R L Raman and Iqbal Ansari — resigned on Sunday, the party still has 21 MLAs in the House, while the JD(U) has 115 MLAs.
RJD sources said if the two parties come together, there would be a stable government. According to the sources, Lalu has …continued »