Echo of Emergency in BJP's decision-making: Jaswant Singh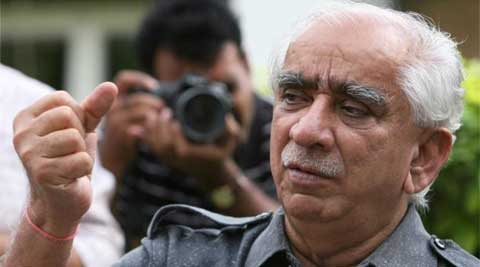 Jaswant Singh has accused the party leadership of betraying him.
The BJP's bitter veteran Jaswant Singh filed his nomination as an independent candidate from his home turf of Barmer on Monday as he accused top leaders of the party of backstabbing him and said the BJP's decision-making process was similar to the arrogance of the Emergency era.
Although he did not openly attack the BJP's prime ministerial candidate Narendra Modi, he took a dig at what he said was the "Namo, Namo chants" in the party.
"I was recently told about these Namo Namo chants.These chants are for gods and not for humans. they diminish god by venerating an individual. The Namo-Namo tamasha, the decision-making process in the party, reminds of 1975. There is more arrogance and less of taking everyone together. It is reminiscent of the Emergency era," Jaswant told reporters.
Targeting Rajasthan Chief Minister Vasundhara Raje and BJP chief Rajnath Singh, Jaswant claimed he had helped the two rise in prominence but they had now turned against him. "There is nothing like a favour in politics," Jaswant said.
"Atal Bihari Vajpayee, L K Advani and I were travelling together. Advani had asked me who would be a suitable candidate for the chief minister's position in Uttar Pradesh and Rajasthan. For UP, I had suggested Uma Bharti and for Rajasthan I recommended Vasundhara Raje.
"Raje would spend endless evenings at my place strategising and making plans for the future. Even for Rajnath Singh, I had backed him for the party president's post. Today these people have back-stabbed me," Singh told a massive rally in Barmer.
He recounted how Vajpayee had invited him to become the first general secretary of the party and of the formative years of the BJP and its ideology. He called the decision to ignore his request to be given a ticket from his home turf despite strong backing from the local cadre as "dictatorial".
He said the ticket being denied was not a personal insult to him but the humiliation of the electorate of Barmer and Jaisalmer. He said over a year ago he had approached Advani seeking a ticket from his home turf since he wanted to bow out from active politics by serving his home constituency.
He said he had accepted the party's decision to field him from Darjeeling in 2009 and became the only BJP candidate to win from West Bengal and expected the party to respect his last wish.
Jaswant did not directly attack BJP candidate Col Sonaram, but his supporters – BJP councillors and senior party workers – told the crowd it was unthinkable for them to seek votes for someone such as Sonaram who had fought six elections against the BJP and against whom they have campaigned for years.
"It is a matter of great disappointment that the state and central leadership ignored my request and have chosen one Col Sonaram as the BJP's candidate. This is unacceptable. Not …continued »