Jaitley versus Captain: Hard fight, harder to call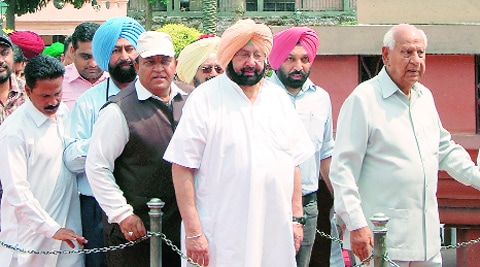 Amarinder at Jallianwala Bagh on Sunday. express archive
Conventional wisdom goes for a toss in the prestigious Amritsar parliamentary constituency which is set for a clash of titans. Leader of Opposition in the Rajya Sabha Arun Jaitley, a close lieutenant of Narendra Modi, is pitted against former Punjab chief minister Captain Amarinder Singh, titular maharaja of Patiala. The constituency, famous for the Golden Temple and its gourmet Punjabi food, is roughly 60 per cent urban and 40 per cent rural, with a Sikh population of some 63 per cent.
The Hindu residents of this essentially trading city would normally be viewed as stereotypical BJP supporters but a surprisingly large number are not backing the lotus. In the Majitha rural assembly constituency, on the other hand, there are plenty of Jaitley supporters among the sturdy Jat Sikh peasantry, though his opponent is the Jat Mahasabha chief.
Another surprise is that the 72-year-old Amarinder Singh, a campaign veteran, displays far less stamina than the novice Jaitley, 61, who is fighting a direct grassroots battle for the first time. The BJP candidate is on his feet from early morning till late night; the maharaja, more relaxed, does not normally meet people before lunchtime. There are huge billboards of Chief Minister Parkash Singh Badal and Modi in Amritsar but there is no sign of any Modi wave. On the other hand, there is a discernible anti-establishment mood against the state Akali Dal government.
The stakes are high for the Akalis, the Congress and the BJP. The Captain needs a victory to reassert his supremacy in the Congress which snatched away his position as state party chief. Besides, it is a longstanding grudge match with the Akalis in which the Badals have won the last two rounds. Not only did the Akalis win the last two assembly elections but Amarinder's son Raninder Singh was roundly defeated by Badal's daughter-in-law Harsimrat Kaur in the Bhatinda parliamentary constituency in 2009.
How prestigious is the Amritsar seat can be gauged from the fact that Chief Minister Prakash Singh Badal has personally addressed three large rallies in Amritsar 's rural hinterland and he will visit once more on April 16. For Jaitley, caught in the middle of this old rivalry, it is a chance to prove he can be popularly elected and not just parachuted to the Rajya Sabha.
The Akalis invited Jaitley to contest when the Congress was a divided house, before Sonia Gandhi mooted Amarinder's name. But, even then, Amritsar was not a walkover. Outgoing BJP MP cricket commentator Navjot Singh Sidhu narrowly won in 2009 by 6000 votes. He lost Amritsar city by some 50,000 votes, his losses in the urban areas were offset by Akali votes from the four rural assembly constituencies. Sidhu's relationship with the Akalis has soured steadily and his replacement was inevitable. He has so far refused to visit the constituency.
Amarinder began as a reluctant candidate. He took …continued »