Jagdambika Pal quits, says no respect for seniors in Congress
Pal said he would contest the Lok Sabha elections from Domariyaganj and is in talks with more than one political party.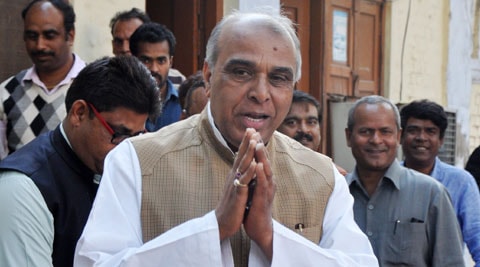 Senior Congress Leader Jagdambika Pal hold a Press conference after resign from Congress at his residence in Lucknow on Friday.(Express photo: Vishal Srivastav)
government was dismissed by then Governor Romesh Bhandari, who had invited Pal to form government. Following this, Pal went on to become UP Chief Minister for three days on February 21, 1998. The Governor order was later stayed by the high court.
It was perhaps for this reason, when asked whether he believes in secularism or communalism, Pal said in Lucknow: "Whichever party I would join would automatically become secular. Party does not have an ideology, it is the ideology of the individual that matters,"
He added: People say I am leaving Congress because it is going out of power but in UP, Congress is out of power since 1989. However, during the assembly elections in 1993, 1996 and then 2002, I contested as party candidate and also won from Basti assembly seat. I contested the Lok Sabha election in 2004 and then again in 2009 as party candidate."
Pal said he would go to his constituency, Domariyaganj, and start meeting people in every assembly segment to seek their opinion about his decision and future line of action. WITH ENS, NEW DELHI
'Pal is driven by selfish motives'
UPCC media chairman Satyadev Tripathi, in an official statement Friday, stated: "Jagdambika Pal has a history of making such decisions. He had left Congress and formed Loktantrik Congress and went on to become minister in the BJP-led government in UP. Later, he again returned to Congress. He was made state president of UP Congress but for his selfish motives he has decided to part ways again."