Its image dented, and spread too thin, Aam Aadmi Party struggles in Delhi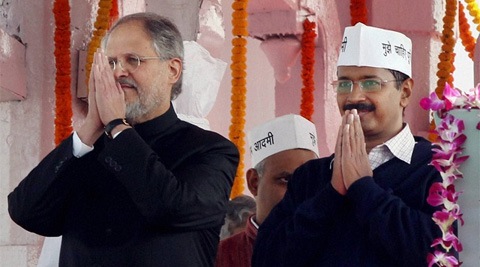 It was here that AAP made political history by forming Delhi's first government by a debutant party under the leadership of Arvind Kejriwal. PTI
The Aam Aadmi Party may be contesting the Lok Sabha elections from more than 400 seats across the country but none is more important than the seven in the national capital.
It was here that AAP made political history by forming Delhi's first government by a debutant party under the leadership of Arvind Kejriwal. Many called it an aberration, but for AAP, a repeat in 2014 of the assembly polls performance — they won 28 of 70 seats — will determine the party's credibility in the years to come.
"We have not had as much time to prepare as we did for the Delhi assembly elections. However, our candidates were declared before others and most senior leaders have campaigned here several times. For us, three of Delhi's seven seats will consolidate our position as a force to reckon with," a senior leader said.
Sources in AAP said their own internal assessments showed they were "competing" in all seven LS seats. "We believe we are ahead in New Delhi (Ashish Khetan), West Delhi (Jarnail Singh) North West Delhi (Rakhi Birla) and East Delhi (Rajmohan Gandhi)," a senior leader said.
In the last three months, AAP has not remained unaffected by infighting, rebellion and attrition. Moreover, their controversial 49-day term in government, at the end of which Kejriwal dramatically resigned over the Jan Lokpal Bill, has left the party combating its own anti-incumbency.
Faced with a national campaign where the party has little chance of forming its own government at the centre, AAP has had to engage with politics revolving around caste, community and religion. And has found itself confronted with the problem of what to promise the electorate.
"In the Assembly elections where we were confident that we would form the government, we had more tangible promises to make. In our Assembly manifesto, we promised free water, a reduction in power tariffs, the Jan Lokpal and Swaraj Bills, and showed that we were serious in attempting to fulfill them all despite only being in power for 49 days," a senior AAP leader said.
"But on this occasion, while our manifesto promises things on the national stage, our speeches revolve around presenting ourselves as a viable secular option to the BJP, and taking up that space. Arvind Kejriwal's decision to take on Narendra Modi is symbolic in that respect," the leader said.
And unlike the Assembly elections, where AAP appealed to a "disenchanted" middle-class, the party has modified its strategy. "Then, we were a novelty and appealed to anybody who listened, but this time around the middle classes favour the BJP so we have focused on Muslims, Dalits and Sikhs in Delhi," the senior leader said.
Muslims form a fair share of the …continued »