It's BJP vs BSP in central UP, Bundelkhand today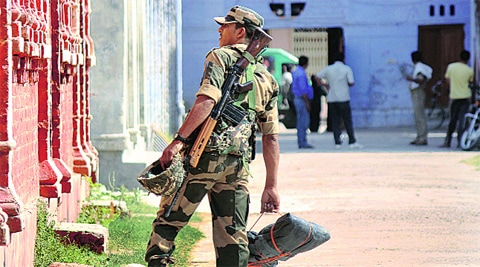 Security personnel at a polling booth in Lucknow, Tuesday. (Vishal Srivastav)
In nine of the 14 Uttar Pradesh Lok Sabha seats going to the polls on Wednesday, the BJP and BSP are locked in a direct contest. As the election moves from central to eastern UP, this phase, and these rural seats, mark the beginning of the fierce battle between the two parties for the crucial state.
Mayawati and Narendra Modi have addressed rallies in most of these 14 seats: Sitapur, Misrikh, Dhaurahra, Mohanlalganj, Lucknow, Barabanki, Unnao, Kanpur, Fatehpur, Rae Bareli, Banda, Hamirpur, Jalaun and Jhansi.
In 2009, the BSP won three of these seats — Sitapur, Misrikh and Hamirpur — and finished second in nine. The BJP had got only one, Lucknow, while the Samajwadi Party won Mohanlalganj, Fatehpur, Banda and Jalaun. The Congress performed the best, winning the remaining six seats. This time, the Congress may not get more than a couple of seats, including Sonia Gandhi's Rae Bareli.
The BSP has stuck with its sitting MPs Kaiser Jahan and Ashok Rawat from Sitapur and Misrikh respectively, and replaced Hamirpur MP Vijay Bahadur Singh with former MLA Rakesh Goswami. It has fielded new candidates in all the nine seats where it finished second in 2009.
The BJP is banking on Modi's popularity; the BSP on its core Dalit base which it has managed to retain. Dalit voters appear to be the least impacted by the "Modi factor" in these seats.
In most of her rallies, Mayawati has spoken of Dalit issues and tried to attact Muslims by promising to defeat the BJP. A party leader said the BSP is also ahead in active booth-level management in all these constituencies.
In Hamirpur, the BSP's Goswami is in a direct fight with the BJP's Pushpendra Singh Chandel. In Jhansi, BJP leader Uma Bharti faces a tough challenge from the BSP's Anuradha Sharma, the sister-in-law of BSP general secretary Satish Chandra Misra. The BSP won three of the five assembly segments in the Jhansi constituency in the 2012 state elections. In 2009, the BJP came fourth here.
The BSP has concentrated most of its energies on the reserved constituencies of Jalaun, Misrikh, Mohanlalganj and Barabanki.
In Jalaun, which the BSP lost to the SP by about 10,000 votes in 2009, the party has fielded Rajya Sabha member Brijlal Khabri. He is in a fight with the BJP's Bhanu Pratap Verma.
In Misrikh, the BSP's two-term MP Ashok Rawat is seen as the main challenger to the BJP's Anju Bala. In Mohanlalganj, BSP founder-member R K Chaudhary, who returned to the party after 12 years, is proving a tough opponent to the BJP's Kaushal Kishore.
At Fatehpur, BJP candidate Sadhvi Niranjan Jyoti is facing a tough challenge from Afzal Siddiqui, son of BSP general secretary Naseemuddin Siddiqui, who is banking on his Dalit-Muslim support base. In Unnao, a seat with a large Dalit population, BSP Rajya Sabha MP Brajesh Pathak …continued »