It's a battle of negatives in Punjab today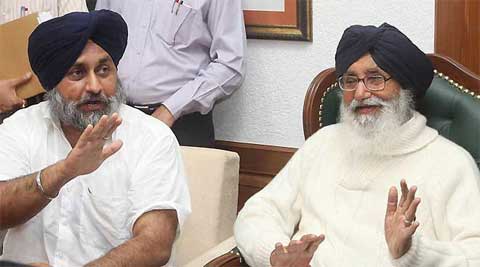 In rural areas, though this time there are no complaints about power cuts — which was Deputy Chief Minister Sukhbir Singh Badal's pet project — people rue the lack of basic facilities. (PTI)
As Punjab heads to polls on Wednesday, the state will witness a battle of negatives. While the Congress is banking on the acute anti-incumbency against the ruling SAD-BJP combine, the alliance is hoping that the 10 years of 'misrule' by the Congress at the Centre will see it through.
Issues like easy availability of habit forming drugs, prices of construction material sky-rocketing, imposition of property tax, regularization fee, lack of basic facilities in villages, cleanliness and unusable link roads pushed the ruling alliance against the wall.
The implementation of property tax and regularisation fee in urban areas has affected the SAD prospects in not just largely urban constituencies like Ludhiana, Amritsar, Jalandhar and Patiala but in smaller 'mandi' towns like Fatehgarh Sahib, Bathinda and Ferozepur as well.
In rural areas, though this time there are no complaints about power cuts — which was Deputy Chief Minister Sukhbir Singh Badal's pet project — people rue the lack of basic facilities. They demand street lights, bricked galis and closed sewage systems.
The easy availability of habit forming drugs is the most important election issue in the border constituencies of Amritsar, Gurdaspur, Khadoor sahib and Ferozepur. Following a crackdown by the government this time, the non-availability of bhukki (poppy husk) for farm hands and farmers during the ongoing harvesting season too has become an election issue in Bathinda, Ludhiana and Faridkot.
Skyrocketing construction material costs is a pan-Punjab problem for which the ruling alliance is being held responsible. "Till five years ago sand was Rs 1,200 a tipper and now it is not even available for Rs 7,000," is the general refrain across the state.
The alleged association of SAD leader Bikram Majithia with the drug trade and the illegal sand mining mafia has added to SAD's woes.  The Akalis remained at pains to explain their achievements: six and four-laning of highways; improved road connectivity; no power shortage, arrival of IT industry to create jobs and insurance of traders.  The Akalis largely banked on their sops during campaigning, taking credit for the Rs 1 a kg atta dal scheme; free cycles to school-going girls; old age pension and shagun to Dalit families.
The party is also hoping that people will vote for the 'winners' and in the end, the Modi factor will sway informed and educated voters in the largely urban constituencies. "Imagine how much the state will benefit if the finance minister is from here?" Chief Minister Parkash Singh Badal's stressed in his public rallies at Amritsar referring to the possibility of Arun Jaitley, the BJP candidate, becoming the next FM. At many …continued »