Invincible in north, spread thin along coast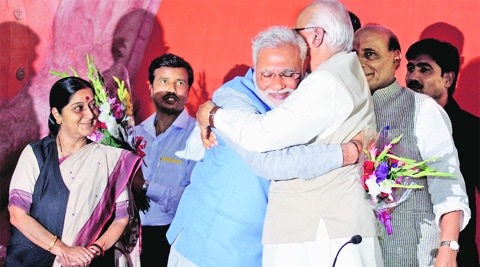 Senior BJP leader L K Advani hugs Narendra Modi as Rajnath Singh and Sushma Swaraj look on at the BJP head office in New Delhi, Saturday. Prem nath Pandey
Of the 17.16 crore votes the BJP got in the Lok Sabha polls, more than two-thirds, or 11.74 crore to be precise, came from just seven states — Uttar Pradesh, Madhya Pradesh, Gujarat, Rajasthan, Maharashtra, Bihar and Karnataka — which contributed 211 seats to the party's tally of 282.
In UP, where the party won 71 of the total 80 seats, 3.43 crore people voted for the BJP.
Another 1.60 crore votes came from Madhya Pradesh where the party won 27 of the 29 seats. Gujarat and Rajasthan, where the BJP swept all seats, polled 1.52 crore and 1.48 crore votes, respectively. This was made possible by the presence of strong party organisation and CMs — Shivraj Singh Chouhan (MP) and Vasundhara Raje (Rajasthan) — who won Assembly elections about six months ago. But the impact of the 'Modi wave' in these states is evident, since the presence of these leaders did not deliver same results in the 2009 LS elections.
A total of 1.33 crore voters each in Maharashtra and Karnataka pressed the lotus symbol on the EVMs. Put together, both these states got the party 40 seats in the Lok Sabha.
Apart from the Modi factor, the BJP's success in Maharashtra was fuelled by carefully crafted alliances with smaller parties like RPI (Athawale), Swabhimani Paksha, and Rashtriya Samaj Pakshs to woo Dalits, farmers and EBC community in the state.
In Karnataka, BJP did a course correction and brought Lingayat strongman and former CM B S Yeddyurappa and tribal leader B Sriramulu into the party, despite objections from L K Advani and Sushma Swaraj, to widen its base that had eroded ahead of 2013 Assembly elections. This was made possible with Modi's consent.
Bihar, where the party stunned many by bagging 22 out of the total 40 seats, polled 1.05 crore votes for the BJP.
But the support for the BJP was not limited to bigger states. Jharkhand, Chhattisgarh, Delhi, Uttarakhand and Himachal Pradesh added over 1.90 crore votes in the BJP's kitty. The party bagged 37 of 40 seats on offer in these five states.
Another success story for the BJP was Haryana, where the party resisted the temptation to ally with scam-tainted O P Chautala's party INLD and entered an alliance with Kuldeep Bishnoi-led HJC. Despite serious attempts by Arvind Kejriwal-led AAP to make a foray into the state, the BJP turned the tables against the incumbent Congress and INLD and won seven out of 10 seats.
The party also managed to win three seats from J&K, where the incumbent Congress-NC alliance failed to win even a single seat. It also …continued »