India goes to poll in 9 phases from April 7 to May 12; vote count on May 16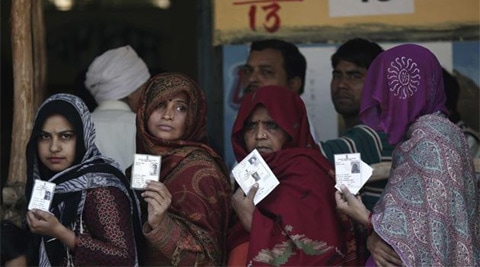 The total electorate is 814 million, 10 crores more than the last Parliament elections. (Reuters)
For the first time, the Lok Sabha elections will be held in nine phases — from April 7 to May 12. Announcing the poll schedule on Wednesday, the Election Commisson of India said counting of votes will be done on May 16 and the results will be announced on the same day.
Assembly elections will also be held simultaneously in the states of Andhra Pradesh, including the Telangana region, Orissa and Sikkim.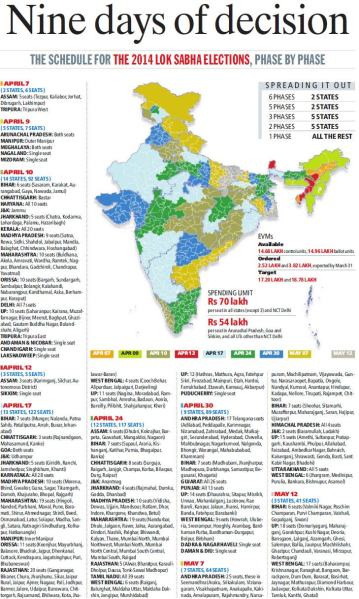 While a bulk of the polling — in as many as 525 constituencies — will take place on six days, only 18 constituencies will vote on the remaining three polling days. The maximum number of constituencies (122 across 13 states) will vote on April 17, followed by 117 constituencies across 12 states on April 24.
Most of the constituencies in the Naxal-affected states of Chhattisgarh, Jharkhand, Orissa and Bihar will vote on April 10, April 17 and April 24. In Uttar Pradesh and Bihar, polling will be held on six days. In West Bengal and Jammu & Kashmir (which has only six constituencies), polling will be held on five days.
The total number of days for the entire electoral process has been brought down from 75 days in 2009 to 72 days this time.
EC officials said various factors like school examinations, holidays, festivals (mainly Bihu in Assam), harvest season in some parts of the country and the weather forecast, particularly about monsoon, had to be taken into consideration. Moreover, the availability of security forces and time taken by them to move from one state to another were also important, they said.
"Keeping in view the interests of the students and also the fact that polling stations are mostly located in school buildings and teachers are engaged as polling personnel, the commission has consciously factored in the examination schedules of various state boards, including the Central Board of Secondary Education, in the process of finalising the poll dates," said Chief Election Commissioner V S Sampath.
He said "other relevant factors like various holidays and festivals falling in the months of March, April and May, harvest season in certain parts of the country and the inputs obtained from the Indian Meteorological Department on the pre-monsoon rainfall, onset and spread of monsoon and acute hot weather conditions in certain parts of the country" had also been taken into consideration.
A staggering 81.4 crore voters, almost 10 crore more than the last Lok Sabha polls, will be eligible to cast their votes this time. According to EC officials, there been a remarkable increase in the enrolment of voters in the age group of 18 to 19 years, with over 2.3 crore voters falling in this age group.
As many as 28,314 transgenders enrolled as "others", 11,844 overseas electors and 13.28 …continued »