Modi, Mulayam Mayawati: three political bigwigs battle it out in Uttar Pradesh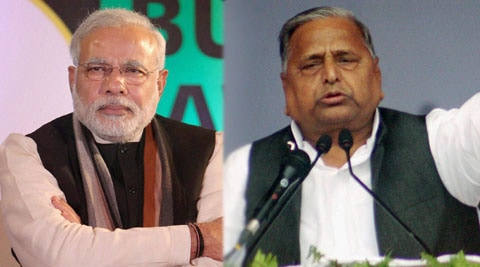 Modi claimed that Mulayam and Akhilesh were following him wherever he went for rallies.
Two political heavyweights, one a heartland veteran, the other an ascendant force on the national landscape, are locked in one of the most important battles of elections 2014.
Narendra Modi and Mulayam Singh Yadav are contesting from adjoining constituencies. Varanasi and Azamgarh have emerged the poles of a political fight for 20 neighbouring seats in Awadh and eastern Uttar Pradesh where the third UP heavyweight, Mayawati, has her own clutch of six or seven stronghold constituencies .
At 75, Mulayam the veteran is trying to stop the Modi onslaught that has after years consolidated the upper castes —Brahmins, Rajputs, Baniyas. In UP's complex caste arithmetic, this has put the BJP in the race for 80 per cent of the state's constituencies.
The anti-SP campaign built around slogans such as "Jai jawan, jai musalmaan", coupled with the rise of communal violence during the SP government's tenure, has aided the BJP cause, allowing it to add sections of the extremely backward castes Kurmi and Rajbhar to its upper-caste bandwagon in the name of Hindu solidarity.
In the past few weeks, however, statements by the likes of Giriraj Singh and Pravin Togadia have done Mulayam a similar favour. "Why will we go to Pakistan? We will die here, Hindustan is ours too," says Munir Ahmed.
Around this minority insecurity are visible the first shoots of what one can call counter-polarisation. Mulayam's decison to contest from Azamgarh anchors that narrative. It's having a visible impact on the traditional Yadav vote that responds to his personal appeal and has been unsettled by the Hindu consolidation around the upper castes.
This has underlined a backward-forward divide, a starting point to prevent a bunch of floating EBCs from flocking to the BJP in rural areas. It's this backward-forward axis on which even the BSP is looking to counter the Modi upsurge even as it fights to retain the upper castes by backing Brahmin candidates in places such as Ambedkarnagar.
For an SP combating anti-incumbency, this is like oxygen. After all, as one moves eastwards from Lucknow, a common refrain is, "This time SP will be wiped out."
Yet, as Hindu solidarity assertively seeks to extend beyond the upper castes, the SP is emerging the first choice for Muslims except in key BSP strongholds. In Faizabad, for instance, there was a clear Yadav-Muslim split in one of the assembly segments that the BJP won with a Yadav candidate in 2012. The SP's local Muslim strongman, Rushdie mian, lost by a thin margin. This area was also the site for a communal incident that year.
In the Lok Sabha seat, the SP has put up Mitrasen Yadav, a veteran. And just before the elections, Rushdie too has been given a job of ministerial status in the UP government to keep the Yadav-Muslim combination intact. But in a seat that the …continued »