In UP's last lap, Mayawati puts up tough fight against BJP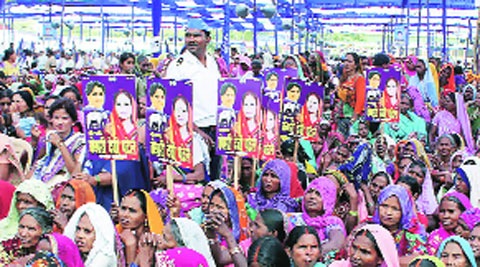 BSP supporters at a rally in Allahabad. PTI file
With 33 seats in Uttar Pradesh yet to vote, it is the BSP which is emerging as the strongest contender in the remaining two phases, with the potential to stop the BJP from sweeping the state.
While Mayawati continues to retain her Dalit support base, as is evident from her well- attended rallies, the Muslims have also started looking at the BSP, rather than the Congress or the SP, as a more formidable opponent against the BJP in more than a dozen constituencies. Meanwhile, the BSP's Brahmin candidates are cutting into the BJP's upper-caste vote bank in many areas.
However, BSP voters are not very vocal and, more often than not, even join the more dominant voice in favour of BJP prime ministerial candidate Narendra Modi. This may give the others false hope, but below the surface, they remain Mayawati supporters.
This was best reflected by a group of young Dalits at a paan shop in Ayodhya. "Modi ki hawa hai," was their stock response at first, adding that the SP or Congress would put up a fight in Faizabad. But minutes later, they underlined their support to the BSP. They said people were fed up with the SP regime.
Such sentiments are common. "No one will acknowledge our vote even if we vote for anyone other than the elephant (BSP's symbol)," said some Dalits. Others said they would vote "according to the way other villagers vote".
A confident Mayawati is seeking to leverage this consolidation to her advantage in the 33 seats, of which her party won 10 in the last elections — Phulpur, Ambedkar Nagar, Basti, Sant Kabir Nagar, Bhadohi, Deoria, Lalganj, Ghosi, Salempur, Jaunpur.
While the Congress held 10 of the 33 seats in the outgoing Lok Sabha, its stock has taken a dip this time. The BSP seems to have emerged as the prime contender against the BJP in Shrawasti, Maharajganj and Domariaganj (all Congress seats) and in the SP-held Chandauli constituency. The BSP has ensured a triangular contest in almost all other constituencies.
The palpable disgruntlement against the incumbent Akhilesh Yadav-led SP government in the state and memories of a better law and order situation during Mayawati's regime has helped the BSP.
Unlike the high-pitched speeches of her opponents, Mayawati, at her public meetings, has followed a set pattern — rallying her core Dalit support base, wooing minorities, drawing attention to her attempt to cobble a social alliance to challenge the BJP by fielding 21 Brahmin candidates to win upper-caste voters.
"When Jagdambika Pal was the candidate, I voted for the Congress. But I will vote for the BSP now. I do not want communal discord," said Ram Avatar Pasi, a voter in Domariyaganj constituency.
The anti-incumbency factor against the SP has left the minorities wondering whether they should cast their lot with the party or BSP. "Muslims appeared divided between the Congress and SP, but now everyone has …continued »