In this TN seat, Cong, BJP and AAP take centrestage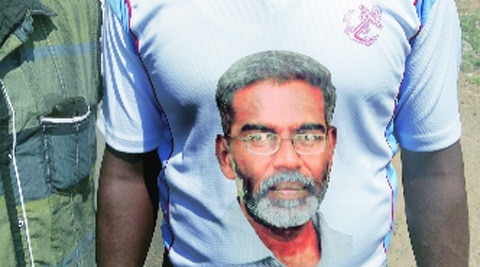 A supporter of AAP candidate Udayakumar wearing his face on his t-shirt.
In the land of the Dravidian parties, the electoral battle in Kanyakumari stands out — the Congress, BJP and Aam Aadmi Party (AAP) are in serious contention for the seat, giving the contest a national feel. Then there is the CPI(M) which also has a significant support base.
While Kanyakumari was once a Congress fortress, the BJP has made major inroads over the years. But the entry of S P Udayakumar, the face of the anti-Kudankulam agitation, as the AAP candidate has made it a close contest. Udayakumar claims the support of nearly two lakh fishermen in 42 hamlets.
The BJP has fielded state party chief Pon Radhakrishnan, who won the seat in 1999, while the Congress candidate is H Vasanth Kumar, a well-known name who runs several business establishments and a television channel. Kanyakumari is perhaps the only seat in Tamil Nadu where the Congress, BJP and AAP stand a realistic chance of winning.
The AIADMK is contesting the seat for the first time, having always allotted it to its allies earlier. The DMK is a divided house, with a section unhappy with the party's decision to not field sitting MP Helen Davidson, who won the last elections with Congress support.
In Idinthakarai, ground zero of the protests, a group of women are still continuing the symbolic 10 am to 4 pm relay hunger strike that began nearly 1,000 days ago. One woman, Sasimma, says the men are away, campaigning for Udayakumar.
M P Pushparayan, another face of the agitation, is contesting as the AAP candidate from neighbouring Tuticorin constituency which includes Kudankulam. Campaigning for Pushparayan in Periyathalai, a fishing village around 70 kilometres from Kanyakumari, Udayakumar says "dacoits and murderers" should be kept out of power — the latter reference seems to be to the BJP as the hamlet has some Muslim families. "They are scared of the BJP," he explains later.
There is repeated reference to the agitation against the nuclear plant, the need to avenge the killing of four protesters in police firing and protect the interests of fishermen.
"We are very confident as the coastal population is excited. They know this is the last opportunity to save the sea," says Udayakumar. While the AAP candidate has not been able to gain traction outside the coastal villages, he claims his support is not limited to the fishermen's families. "There are issues like price rise and safeguarding agriculture. Besides the AAP stands for change and there is a mood for change," he says.
With the majority population in Kanyakumari being Christians, the church plays an important role. While the church had earlier supported the agitation, albeit reluctantly, it is now silent as there are three Christian Nadar candidates in the fray — DMK's F M Rajaratinam, AIADMK's D John Thangam and CPM's Bellarmin, which is likely to ensure a …continued »