In steady decline since 1998, BJP banks on 2014 vote surge for new high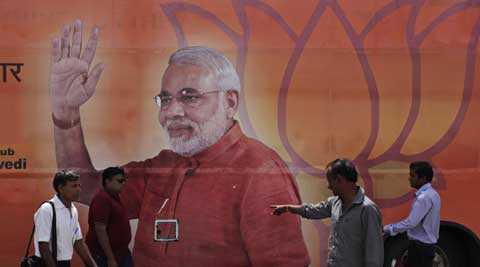 Narendra Modi's political opponents have tried to downplay his rising appeal across the country. ( Source: AP )
THE BJP is hoping that not only will the NDA win a clear majority in the Lok Sabha and form a government comfortably, but that the election results on Friday will also confirm the steady slide in the party's vote share since 1998 has been arrested.
It is a daunting goal when seen in the backdrop of the fact that the BJP's popular support in national elections between 1998 and 2009 has eroded by a net 17 per cent.
Through the 1999, 2004 and 2009 Lok Sabha elections, the BJP saw the number of its voters fall by a net 1.59 crore from a peak of about 9.43 crore in 1998 to 7.84 crore in 2009. This 17 per cent dip is more alarming if the growth in population during this period is taken into consideration, BJP leaders said.
The Congress, on the other hand, added about 2.4 crore votes during this period, marking a net increase of about 25 per cent.
While BJP and RSS cadres have worked their hardest in a decade to arrest this trend, party leaders admit that the responsibility of reviving electoral appeal has been solely on the shoulders of its prime ministerial candidate, Narendra Modi.
And Modi, it seems, has been conscious of this challenge from the very beginning. He broached the issue of the difference in the number of votes between the BJP and Congress during his first meeting with the party's national office bearers and state unit chiefs in April last year and exhorted them that it was possible to bridge the gap.
That he may have been successful has been confirmed by the response to his public meetings across the country and the exit polls, party sources said. Modi, they said, may have more than bridged the gap between the BJP and Congress and revived saffron politics at the national level.
Modi's political opponents have, however, tried to downplay his rising appeal across the country saying Modi is no more popular than Atal Bihari Vajpayee, under whose leadership the BJP's electoral appeal had peaked in 1998.
It is in this backdrop that the BJP expects May 16 to be a major milestone for the sangh parivar as well as for national politics.
Surpassing the BJP's electoral support of 1998 will not only silence Modi's political opponents but it will also bring saffron politics back to the centrestage, party leaders said.
The big picture of the BJP's overall decline is a patchwork of hits and misses.
While the party consolidated its position in Gujarat, Madhya Pradesh, Chhattisgarh and Rajasthan, it has been in and out of the game in states such as Orissa and Assam. And while it made a substantial foray into southern India by winning Karnataka before squandering it, the BJP suffered serious setbacks in politically crucial Uttar Pradesh and withered from the pinnacle to the fringes there.
Uttar Pradesh, in fact, mirrors …continued »