In Orissa: The big story The rise and rise of Naveen Patnaik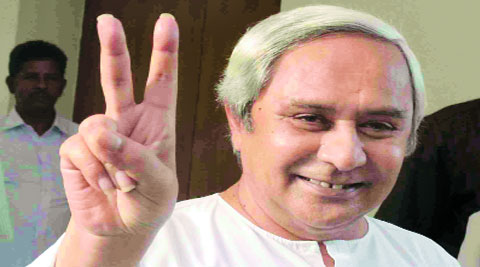 Naveen Patnaik after the results. ( Express Photo: Chandra Sekhar Sahoo)
As the Modi wave swept large parts of the country this elections, one state largely appeared untouched. It was Naveen Patnaik's Orissa. And Friday's results came as a confirmation.
Naveen's Biju Janata Dal registered a thumping win, grabbing 119 of the 147 Assembly seats and 20 of the 21 Lok Sabha seats.
Like in Tamil Nadu and West Bengal, Naveen bucked the Modi wave as he helped the BJD — and himself— to a record fourth consecutive win in simultaneous assembly and Lok Sabha polls. Compared to 2009, when BJD won 38.8 per cent votes, the party this time won 43 per cent of the total votes.
The BJP can draw some cheer from the nine seats it won in the Assembly, securing 18 per cent votes, a jump of 3 per cent. The Congress vote share came down to 25.7 from 29.11 in 2009. Although political pundits expected BJP to do well on the basis of well-attended Modi rallies, it could not be translated into votes due to absence organisational network of BJP. Despite the poor show, BJP finished second in 35 of the 147 assembly seats and nine out of 21 Lok Sabha seats. BJP state president K V Singhdeo sad: "We have improved our tally though we could not meet our expectations."
The Naveen wave — as BJD leaders have started calling it — was so massive that it drubbed most opposition titans, including union minister Shrikant Jena, who was relegated to third position in Balasore Lok Sabha constituency and PCC president Jaydev Jena in Anandpur Assembly
Others who lost included BJP leader Bijoy Mohapatra, Congress chif whip Prasad Harichandan, former Congress leader Soumya Ranjan Patnaik and former chief minister Giridhari
In fact, BJD's victory is much bigger than what it registered in 2009 when it won 103 Assembly seats and 14 Lok Sabha seats. The scale of BJD's win took even partymen by surprise who had expected anything between 90 and 95 seats in Assembly and 14-16 seats in Lok Sabha. "It's Naveen wave. In Orissa, no other wave worked," said Health Minister Damodar
At his residence Naveen Niwas, the chief minister told reporters he was grateful to the people of Orissa, especially the women voters. "People have given their verdict in our favour. There is a lot of pending work to do," Naveen said. He had every reason to thank the women voters, mostly tribals and
What has kept the Naveen poll machine running for the past 14 years is his unwavering focus on women and tribal voters. "It's the women who have always been on his side and Naveen is aware of that," said a bureaucrat.
Through schemes like Mamata, under which pregnant and lactating women are given assistance of Rs 5,000 and financial assistance for 5.36 lakh women Self Help Groups, Naveen has managed to build a formidable votebank among women. This apart, …continued »