In Modi vs Mamata, debate is whose loss will be BJP's gain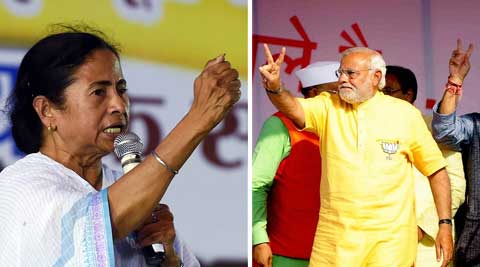 That the BJP will better its four-per-cent vote share of 2009 is no longer a matter of debate.
into votes. But the Left can cash in and that is the gameplan. But people will not forget him for saying people from Bangladesh will have to return. I am from Bangladesh." The Trinamool has given a smart spin to Modi's rant against migrants by playing on the age-old Ghoti-Bangal (West vs East Bengal origin) sentiment.
Mamata has another important constituency to please in taking on Modi. Muslims, whom she has been wooing, have not forgotten her NDA stint. Trinamool insiders say the anti-BJP rhetoric is calculated to allay fears among minorities that Mamata may once again team up with the NDA if the coalition performs well. "That is why Mamata rebuffed Modi's advances. Somewhere along the way, Modi raised his pitch because the BJP wants to cash in on anti-incumbency. But should the BJP perform better than expected, there is no question that it will be the Left who will have the last laugh," says a Congress office-bearer, who accuses Mamata, once his colleague, of thinking only of short-term gains.
BJP state president Rahul Sinha sees no design to any of this. "The Left is fighting an existential crisis and the Trinamool is fighting a future threat given its own misgovernance. People of Bengal are not just voting for a Modi government at the Centre but also see the BJP as a viable alternative for 2016," says Sinha.