In Modi vs Mamata, debate is whose loss will be BJP's gain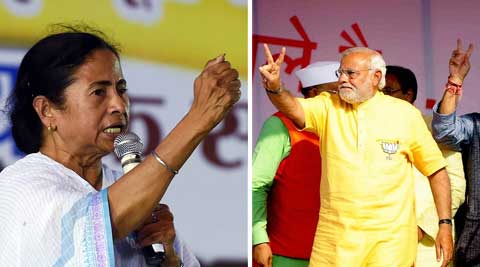 That the BJP will better its four-per-cent vote share of 2009 is no longer a matter of debate.
Between an organisationally tottering Left Front and an aggressive Trinamool Congress battling anti-incumbency, the swing factor in the remaining elections in West Bengal could still be the escalating acrimony between the chief ministers of Gujarat and Bengal. Some of the last 17 seats are minority-dominated, while others have the Left retaining part of the influence that kept it in power for three-and-a-half decades.
From Narendra Modi's overtures in February at a Kolkata rally, which Mamata Banerjee rebuffed, the exchange has turned bitter with one side bringing in the Saradha and teachers' recruitment scams and the other using the epithet "Butcher of Gujarat".
That the BJP will better its four-per-cent vote share of 2009 is no longer a matter of debate. What is, though, is whether it will touch or even cross the 2004 high of 13 per cent, achieved in alliance with the Trinamool. The inevitable question is whom it will hurt the most, the ruling party or the principal opposition. For now, each accuses Modi of playing the other's game. Mamata has accused the Left of "inviting" the BJP to chip away at the Trinamool's vote share while Left leaders allege the face-off is timed to divide the anti-incumbency votes in seats where the Left had been hoping to perform well.
"It is by design that the Modi-Mamata face-off has peaked when seats in North and South 24-Parganas are going to polls. The intention is clear, divide the anti-incumbency votes and hurt the Left. Till now the film industry was only supplying Mamata with heroes, heroines and villains; now it seems she is hiring scriptwriters too," says the CPM's Mohammed Selim.
Poll analysts give the Left a chance in Basirhat, Barasat (in both polarisation may hurt the Trinamool), Diamond Harbour (sitting MP Somen Mitra has deserted the Trinamool for the Congress and Mamata has fielded her nephew Abhishek) and Midnapore (the Trinamool has fielded a greenhorn in Sandhya Roy).
In the last two weeks, Mamata has not addressed a single rally where she has not accused the Congress and the Left of hiding behind the BJP to scuttle the Trinamool's chances. If the BJP does get a double-digit vote share, the biggest loser would be the Trinamool that got 37 per cent last time. With respective shares of 10 and 16 per cent, the Congress and the Left don't really have too much to lose, as even their insiders agree.
Says Baishwanor Chakroborty, working president of the state Trinamool Yuva Congress: "Modi's flourish is an attempt to give oxygen to the Left. The BJP does not have ground-level workers to convert this rhetoric …continued »