In Maharashtra, Munde usually one up on Gadkari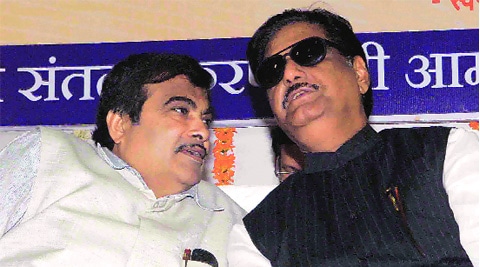 Munde has upstaged Gadkari in the way each deals with Maratha strongman Sharad Pawar.
In Maharashtra, where the BJP has targeted 35 of 48 seats in alliance with the Shiv Sena, a power tussle has resurfaced between the former party's top two leaders in the state.
Former BJP president Nitin Gadkari, who is the candidate from Nagpur, and deputy leader of the opposition in the Lok Sabha Gopinath Munde are now seeking to upstage each other over candidate selection, the structure of the election manifesto or alliances to be forged.
In June 2011, Munde had stunned the BJP with a threat to join the Congress because he felt he was being made to play second fiddle to Gadkari. While Gadkari enjoyed the backing of RSS chief Mohan Bhagwat, Munde kept the party on tenterhooks when images in the public domain showed him with the Congress's Vilasrao Deshmukh in a temple at Shirdi, followed by a visit to Delhi.
In March 2014, local BJP leaders see Munde as miles ahead of Gadkari in matters specific to Maharashtra are concerned. "Munde has a mass base, unlike Gadkari who will be testing his public support for the first time in his political career when he contests the Nagpur seat."
One thing that has allowed Munde to firm up his base further is the emergence of reports about Gadkari's prime ministerial ambitions. The central leadership has since rallied around Munde.
Munde has upstaged Gadkari in the way each deals with Maratha strongman Sharad Pawar. Gadkari has been seeking to build a friendship with Pawar on the common plank of development, stressing the flexibility of politics, while Munde prefers to take the NCP chief head on and calls him a political rival.
Gadkari sought to pull one back a week after Munde had declared Raj Thackeray a closed chapter. Gadkari lunched with the MNS president in Mumbai to reopen the alliance talks. It is Munde's closeness to the Shiv Sena that has led to Gadkari's frequent flirtations with the MNS, which has since announced a cryptic kind of support to Narendra Modi. Gadkari also started talking to PWP leaders whom Munde was engaging separately to get a grand alliance in place.
"The differences between the BJP's top two leaders are unfortunate," says Shiv Sena MP Sanjay Raut. "It adversely affect the grand alliance."
Gadkari projects himself as above state politics. "Frankly speaking, I have moved on to Delhi politics, except for the fact that I will contest from Nagpur," he tells The Indian Express. "I firmly believe my hometown should be where I should serve the people. I am not interested in being either the chief minister of Maharashtra or the prime minister of India."
"My heart is in Maharashtra, not Delhi politics," says Munde. "I would like to play a bigger role in the Lok Sabha and assembly elections to rout the Congress and the NCP."
Neither misses …continued »