In Maharashtra, Narendra Modi guns for Rahul, Pawar and Chavan; rakes up farmers' suicides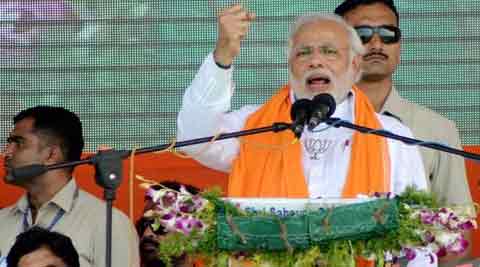 Narendra Modi during his election rally at Nanded, Maharashtra on Sunday. (PTI)
Narendra Modi on Sunday mocked at Rahul Gandhi for giving ticket to "tainted" former Maharashtra chief minister Ashok Chavan and accused NCP chief Sharad Pawar of failing to stop farmers' suicides in Maharashtra.
Addressing an election rally in Nanded, Modi slammed the Congress for being "shameless" by stating that no law stops Chavan from contesting polls.
"Though Shahzada (Rahul) has said he won't compromise with corruption and action will taken in the case, Chavan was given the ticket," he said. Mocking at the Congress for resurrecting Chavan, he said, "For Congress giving ticket is taking action. What Adarsh candidates they have," he said in an obvious reference to the Adarsh Housing scam in Mumbai in which the former CM's name had cropped up.
"Can anyone think of a scam over widows of heroes who died in Kargil? Its not about a building in Mumbai or giving flats to in-laws," he said. Promising action on Adrash scam, he said no one will be spared when the new government assumes power after May 16.
In Amravati, Modi said Pawar has done little to save the farmers in the belt, which has seen a spate of suicides by them, and asked the voters to free India and Maharashtra of NCP.
"The Agriculture Minister is from here, yet he is unable to save farmers. He has time to talk on cricket but not for dying farmers. Let us have a NCP free India and Maharashtra," he said.
Flaying the local body tax, he said, "LBT is nothing but Looto Baato Tax. This tax is ruining the farmers of Maharashtra."
In Akola, Modi blasted UPA's policies for the spate of farmer suicides in Vidarbha in the last few years. Gujarat, he said, too had cotton growers, but they were not taking the extreme step like their counterparts in Maharashtra's cotton belt.
"Like in Vidarbha there were cotton growers in Gujarat and his state, too, had to face drought. But, farmers in Gujarat did not think of ending their lives. In Vidarbha cotton production is 280 kg per hectare, while in Gujarat it is 630 kg," he said, addressing a rally here.
Taking on the Congress, the BJP's prime ministerial candidate said, "In 1857, the call was to free India from British and in 2014 the call is to free India from Congress".
"Be it unemployment or farmers, they are just not bothered. Sadly, these people in Congress do not know what poverty is," he charged.
Once again referring to Rahul Gandhi as 'shahzada', Modi said, "Does the shahzada know the pain of sleeping without shelter on cold nights."
On the "CWG and Adarsh scams", he said, "They have looted the country at will. Where will they be after May 16?" May 16 is the day of counting of Lok Sabha votes and BJP is hopeful of coming back to power after a …continued »