In Gujarat, Rahul Gandhi attacks Narendra Modi: Behaves arrogantly like Hitler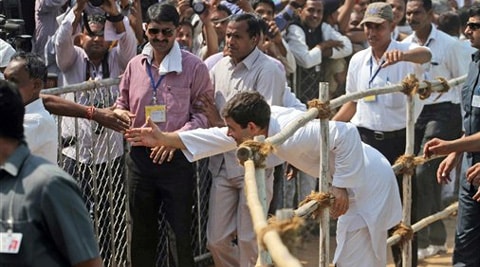 Congress vice-president Rahul Gandhi at a rally in Balasinor, Gujarat, Tuesday. (AP)
Congress vice-president Rahul Gandhi likened BJP's prime ministerial candidate Narendra Modi to German dictator Adolf Hitler at a public rally in Gujarat on Tuesday.
Addressing a well-attended rally at Balasinor in Kheda district, Gandhi said in an indirect reference to Modi: "Hitler was the biggest arrogant who thought people had no wisdom and there was no need to listen to them. He thought he had all the knowledge himself. Similarly, there is a leader today in India who says 'I have done this, I have done that' and behaves arrogantly. A leader should not be arrogant." 
He claimed that the BJP had double standards because it had opposed the naming of Ahmedabad's airport after Sardar Vallabhbhai Patel and Modi was campaigning for a "Congress-free" India even as he appropriated its founding leaders Mahatma Gandhi and Sardar Patel. This was Rahul Gandhi's first visit to Gujarat after the declaration of election dates and the second visit within a period of one month.
On Modi's appeal to make him "chowkidar" of the national treasury, Rahul said: "Congress wants all Hindustanis to be 'chowkidars', not only one individual." He also accused the Modi government of "grabbing" lands from poor farmers and allotting them to rich industrialists at throwaway prices. "Is this chowkidari?'', he asked. "This is not chowkidari. This amounts to chori (theft)," he said.
Trying to woo women voters, Rahul said: "India will change and become a superpower only if women are empowered." Slamming the "Gujarat model of development", he said: "Gujarat is not shining for its women and poor. It is shining only for 10-15 industrialists.
The houses and vehicles of industrialists are shining." He further said: "Hindustan will not shine till the houses of poor begin shining." Targeting Modi on corruption, Rahul said: "Three BJP ministers have been in jail on charges of corruption. Lokayukta in Gujarat was appointed only after Supreme Court's orders. If Modi is really serious about tackling corruption, why did the BJP take back corrupt former Karnataka chief minister B S Yeddyurappa? Why did the BJP take back the Reddy brothers back into its fold?," asked Rahul.
Later, Rahul met and interacted with salt pan workers, locally known as agariyas, at Kharaghoda in Surendranagar district, bordering the Little Rann of Kutch. Rahul listened to their problems and said, "I have understood your problems and I will try my best to address those issues. I am not saying that I will change your life in the next ten days, but I will make attempts."
State Congress leaders, including state party president Arjun Modhwadia, the Leader of the Opposition in the state Assembly Shankersinh Vaghela and UPA ministers Dinsha Patel and Bharatsinh Solanki also …continued »