In fire and brimstone of last phase, BSP elephant plods quietly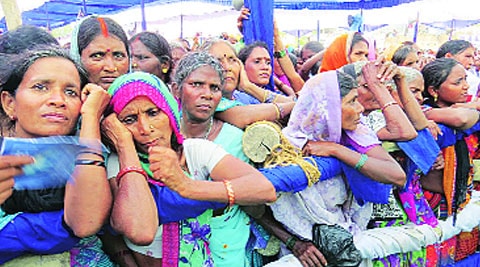 Women at a Mayawati rally in Azamgarh. (Ashutosh Bhardwaj)
During her 43-minute speech in SP chief Mulayam Singh Yadav's constituency Azamgarh last week, BSP chief Mayawati named him, Rahul Gandhi and Narendra Modi some 40 times.
Although she criticised them, on each occasion she prefixed their names with "Shree", making her one of the few top leaders who have managed to keep their tone and emotions under control this election.
Respecting opponents has not been the style of BSP, especially Mayawati, and this linguistic shift was not incidental.
Through the campaign, Mayawati or her candidates have not made loud headlines, in stark contrast from previous elections when the sole strategy seemed to be capturing the media space. Even the famous "PM post for Dalit ki beti (PM post for daughter of a Dalit)" refrain is not heard.
BSP leaders say the quiet campaign is a strategy to ensure that opponents, especially Modi, get little space to attack Mayawati and the focus remains on the contest between the BJP and the Congress.
"The entire electoral campaign is a highly-charged atmosphere, a calculated strategy of Narendra Modi. If we react to it, they get a boost. Ignoring them is the best strategy," BSP national general secretary Suresh Mane told The Indian Express. "BJP has to capture ground in UP, while BSP and Mayawati are settled players. As you grow in stature and confidence, it's reflected in your voice."
The confidence seems to come from the unflinching support of its core vote — up to four lakh Dalits in almost every UP constituency.
Leaders say that the party has learnt from past experience when two previous high-profile campaigns, the BJP's 'India Shining' in 2004 and BSP's pitch to make Mayawati the prime minister in 2009 backfired.
"We are staying away from the limelight, working quietly," said Ramavtar, who is in-charge of the BSP's Ghosi election office.
The strategy has shifted the focus away from Mayawati in Uttar Pradesh and made it a Congress vs BJP contest. While the Congress is visibly weakened, the SP is also facing anti-incumbency after three years of Akhilesh Yadav's rule. And while some of the SP and Congress votes are expected to shift to the BJP, the BSP hopes to pocket the non-BJP voters from these two parties.
To catch this voter, Mayawati has fielded a record 21 Brahmins, eight Thakurs and 19 Muslims from UP, which has 80 seats. While the BJP and Congress have given tickets to 17 and 13 Brahmins respectively, the SP, considered to be strongly backed by Muslims, has 13 Muslim nominees, Congress has 10 and BJP, none.
Significantly, the BSP has not given a single ticket to a Dalit outside the reserved seats. Still, this voter does not seem to be going away.
It has strategically fielded Brahmins in seats where a Hindutva wave and upper caste surge is expected for the BJP candidate.
Muslims have got seats where an opponent candidate is likely …continued »