In Cong bastion Nandurbar, you can sense straws in shifting wind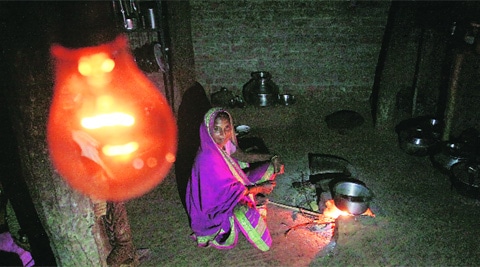 Mogra Padvi, 50, cooks in dim light at her home in Nandurbar's Valamba hamlet. Pradeep Kocharekar
Nandurbar, tucked away in a corner of northern Maharashtra, shares a special bond with India's most powerful political dynasty. The Gandhis have always chosen this impoverished, tribal-dominated region to launch their national election campaign. And Nandurbar has remained with the Congress continuously since 1967.
This time, things are different. Unable to break into the Congress bastion on its own, the BJP has "imported" Heena Gavit, the 26-year-old daughter of expelled Nationalist Congress Party heavyweight Vijay Kumar Gavit, to take on 80-year-old sitting MP Manikrao Gavit.
It is going to be a close, straight contest between the union minister and the postgraduate student of medicine, local political observers say, the presence of a candidate from the Aam Aadmi Party notwithstanding.
Nandurbar's geographical location adds to the political contest for the seat. The region sits at the junction of three states, and is bordered by Narendra Modi's Gujarat on one side, and Shivraj Singh Chouhan's Madhya Pradesh on the other. And while Nandurbar has been the Congress's chosen theatre to launch its marquee development and welfare schemes, an overwhelming percentage of the district's rural population turns to urban centres like Surat, Bardoli, and Ankleshwar in Gujarat to earn a living through odd jobs for up to eight months every year.
Senior political analyst Yogendra Dorkar said Modi would love the narrative of having turned this Gandhi family bastion saffron. "It would be a symbolic victory for the BJP," Dorkar said.
The political demographic may be changing too, if the declining vote share for the Congress and the widening appeal of Modi's message of growth is any indication. "For the first time, people are talking about a political leader other than the Gandhis, and it is Narendra Modi," Dorkar said.
The vote share for Manikrao Gavit, who is seeking a record tenth term, has declined steadily from 63 per cent in 1984 to 45 per cent in 1996 to 36 per cent in 2009. The triangular fight among the Congress, BJP and Samajwadi Party, in fact, saved the day for Manikrao the last time.
Villagers, activists and local politicians said support for the Congress has been declining because the party has been unable to live up to the basic needs of adivasi voters: electricity, pucca roads and water.
Despite its political significance and loyalty to the Congress, the region has remained the underbelly of tribal Maharashtra, plagued by poverty, starvation and malnutrition. It is counted among the country's most backward districts, which sees a large number of child malnutrition deaths.
At Sipanpada, a tribal hamlet in the Satpura hills, 41-year-old Udya Vasave said he has to go to Gujarat in search of work every year. "I have my own land, but it is not irrigated, and farming can be done only during the monsoon," he said. "The produce has …continued »