In coastal Karnataka, RSS hits every road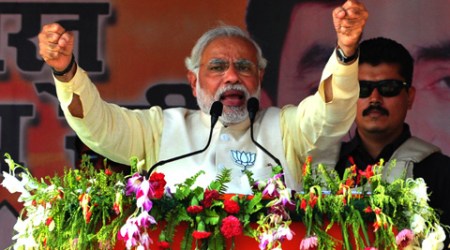 This is the time to hand over the responsibility to a special person Narendra Modi.
The one region in Karnataka where the Narendra Modi factor is clearly in play for the Lok Sabha elections is in the coastal districts — encompassing the Dakshina Kannada and Udupi-Chikmagalur constituencies — where Hindutva and nationalistic streaks run strong.
It is the only region in the state where the BJP and Sangh Parivar, in the course of their campaign, frequently refer to the beheading of Indian soldiers by Pakistan, Chinese intrusions into Arunachal and the terrorist activities of Yasin Bhatkal and the Indian Mujahideen.
The choice of Modi as the BJP's prime ministerial candidate has reinvigorated the Rashtriya Swayamsewak Sangh and other Sangh Parivar constituents in the region to such an extent that internal differences, which contributed to the BJP's loss of ground in the region in the 2013 assembly polls, have been set aside.
Top Sangh Parivar leaders, including senior RSS leader Ram Bhat who stayed away from soliciting votes in the assembly polls — the BJP won only one of the eight seats in its Dakshina Kannada stronghold — are actively campaigning for the BJP, in the name of Hindutva and nation building.
At the RSS's recent Akhil Bharatiya Pratinidhi Sabha in Bangalore, Sarsangchalak Mohan Bhagwat may have told the cadres that it was not their job to sing Modi's praises and they should engage in the task of nation building, but in the coastal districts, Sangh workers are singing the nation building song in the NaMo, NaMo tune.
"This is a special situation. This is a time for building the nation and we believe this is the time to hand over the responsibility to a special person — Narendra Modi. We may have stayed away from the MLA elections but this time it is about national security, internal security and all other national causes,'' said a top Sangh Parivar leader in Mangalore.
With as many as 40,000 shakhas in Dakshina Kannada, the Sangh Parivar is known to have a huge network of workers who can reach out to the electorate. It is believed to have harnessed this network to create a Hindutva laboratory in coastal Karnataka to gain political power.
The assembly polls in May 2013 was the first time in nearly 20 years that BJP candidates in the coastal region did not have the numbers and muscle of the Sangh Parivar behind them, leading to a humiliating loss — also partly aided by public sentiment against acts of violence and atrocities on women and youth in the name of Hindutva by Sangh Parivar groups during the BJP rule in 2008-13.
"We need a person who can handle national security and address development issues. We need somebody to build India, and it is Modi. Our effort is to use our network to get all the voters to the polling booths. It is Modi …continued »