'I am above caste politics, though Vanniyar Sangam gives us a base'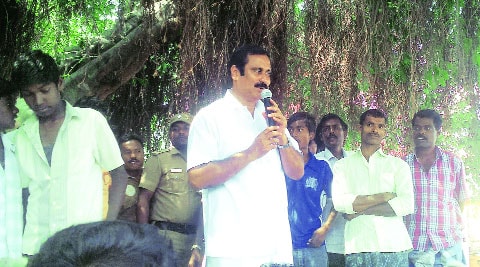 Anbumani Ramadoss campaigns in Nallamapalli. express
Former union health minister Anbumani Ramadoss has emerged from under the shadow of his father, PMK founder S Ramadoss, forging an alliance with the NDA after prevailing on the initially reluctant senior Ramadoss. Now contesting an election for the first time (he was in the Rajya Sabha when a minister) Anbumani was campaigning in Nallamapalli, Dharmapuri, a severely backward district hit by caste clashes when he gave this interview:
What is the focus of your campaign?
This is a backward district that stands at 28th out of 32 districts in Tamil Nadu in the human development index. There are no industries, agriculture is suffering due to water shortage, and because of this, two to three lakh youth are forced to migrate. The first priority is to bring industries and create employment. Secondly, this district needs to be calmed. I am trying my best to maintain peace. I promise them that this district will be among the top five districts in the state. Also, my track record as health minister is working well for me.
In your speeches you have talked about the 108 ambulance service and NRHM that you initiated. Will that bring votes in a backward constituency? 
Today's youth are eager for a change. Like those in the cities, the youngsters in Dharmapuri want Narendra Modi to be the next prime minister. All that will work in my favour.
But is there space in Tamil Nadu politics for another front? 
If you ask the neutral voters across the spectrum, they will tell you that they had enough of the DMK and AIADMK that have been ruling the state for 47 years. Even though this is a parliamentary election, the yearning for an alternative is strongly felt here like in the case of West Bengal. Even in the last assembly election in 2011, people voted for AIADMK due to lack of a choice. This time, they have a viable alternative in the form of NDA coalition. That is the reason why the projected seats for AIADMK has come down from 35 to 15 now.
Does this mean the NDA is gaining? What about the DMK?
The DMK has to deal with the Alagiri factor, which is going to be instrumental in defeating a few of their candidates. It will have an impact because the longtime members of the party are said to be disillusioned by the attitude of the new leadership led by Stalin. Our aim is to push the DMK to third place, so that we will be seen as the stronger contender against incumbent AIADMK in that election.
Your father was said to have had reservations about the coalition, and differences with you. 
Our goal is the same: defeat the DMK and the AIADMK. But he wanted to go it alone. I reasoned with him that since the goal of all alliance partners is the same, going the coalition route against common enemies would raise …continued »