How NDA's Dalit coup can hurt UPA in Maharashtra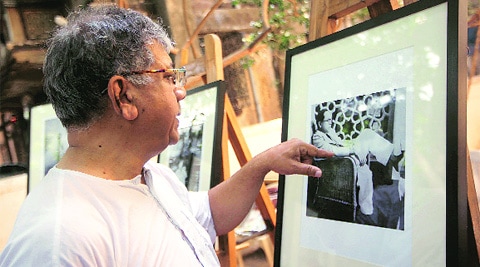 Prakash Ambedkar with a photo of his grandfather. Kevin D'souza
Maharashtra's new social engineering, which has had the BJP-Shiv Sena tying up with the RPI, is less about how many seats the latter can win than about how many its support base can swing. Indeed, the RPI has fielded only one candidate, Ashok Gaikwad in Satara in western Maharashtra, and is by no means certain about getting him elected either.
Notwithstanding the several factions among Dalit communities, the RPI has enough support to be potentially able to determine the outcome for up to 18 of the state's 48 Lok Sabha seats. And if it does that, most of these will be at the cost of the Congress, with which the loyalties of most Dalit parties have been a tradition of six decades. In the outgoing Lok Sabha, the Congress-NCP holds 12 of these 18 seats.
"New-generation Dalits no longer want to remain trapped in ideological debates, which were the most convenient tool that the Congress and the NCP used to exploit to corner the Dalit voters for their own interests," says Dalit writer Arjun Dangle. "Until the late 1990s, Dalits were caught in this secular-versus-communal debate. But the BJP-Shiv Sena is no longer perceived as untouchable."
Dalits constitute 10.5 per cent of Maharashtra's population, but in these 18 constituencies — all eight in Marathwada, all six in Mumbai, and two each in western Maharashtra and Vidarbha —they account for an average of 16 per cent of the vote, Dangle says. A couple of constituencies in northern Maharashtra too have pockets of sizeable Dalit influence.
The Congress-NCP stands to lose the most in Mumbai, where it holds all six seats. In the other three regions, it has half the 12 seats that are marked by an RPI influence — three of the eight in Marathwada, both in Vidarbha (Nagpur and Bhandara-Gondia) and one of the two in the west (Pune, the other being Shirdi that is held by the Shiv Sena).
The RPI's Ramdas Athavale has a large following among Buddhist Dalits (six per cent). Various splinter groups led by R S Gavai, Prakash Ambedkar, Jogendra Kawade and Vijay Kamble command smaller groups to varying degrees.
A failure to strike an alliance with Prakash Ambedkar, grandson of B R Ambedkar, is another setback to the Congress-NCP, though it has lower stakes in the four seats where his Bharip Bahujan Mahasangh has an influence. It is the BJP-Shiv Sena that holds Akola, Buldhana, Amravati and Yavatmal-Washim in Vidarbha, where polling took place on April 10.
"Today, who is responsible for the growing atrocities against Dalits in Maharashtra? Whether it is the misuse of police force or the denial of caste certificates to Dalits, the government is responsible. How can you expect Dalits to remain loyal to the Congress-NCP?" Ambedkar says.
And Athavale, whose support the Congress-NCP tried in vain to win back, says, "In 2009, when I contested from …continued »