At a time when the Congress should have been gearing up for the assembly elections in Haryana, the already depleted party is coping with the exit of more and more leaders and continued attacks on Chief Minister Bhupinder Singh Hooda from those who remain in the party.
Before the Lok Sabha elections, the Congress lost its former union minister Rao Inderjit Singh, besides chief parliamentary secretary Dharambir, former minister Ramesh Kaushik and former MLA Nripendra Sangwan, who was chairman of the Congress's ex-servicemen cell, all of these to the BJP. Rao Inderjit is now a minister in the Narendra Modi government while Dharambir and Kaushik too are BJP MPs. Former union minister Venod Sharma, an old friend of Hooda, meanwhile, left to float his own Jan Chetna Party.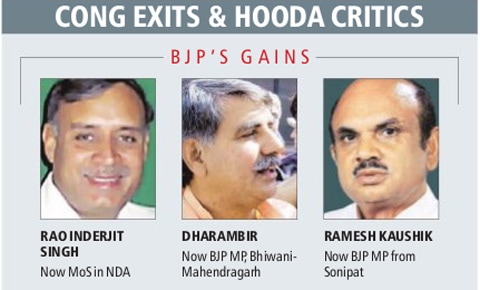 Then last week, four-time former MP Avtar Singh Bhadana quit and is reportedly negotiating with Om Prakash Chautala's Indian National Lok Dal. AICC general secretary Birender Singh, already stripped of his CWC membership after meeting BJP president Amit Shah, is set to be the next exit; he is expected to join the BJP on August 16.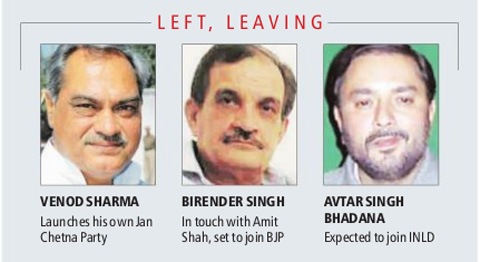 Most of them accused Hooda of "lopsided development" by focusing only on his home constituency of Rohtak, now represented by his son Deepender. They point at the prestigious projects Rohtak has got — an IIM, IIT, an AIIMS-like institute, National Cancer Institute, Global Centre for Nuclear Energy Partnership, National Institute of Food Technology, Entrepreneurship and Management, Rajiv Gandhi Sports Complex, Film and Television Institute, Institute of Hotel Management, Institute of Urban Planing and Architecture.
Besides the perceived discrimination in development, however, what has contributed to the disillusionment is the frustrated ambitions of several Congress leaders alongside the rise of Hooda, who has the central leadership's backing and is now the party's tallest leader in Haryana.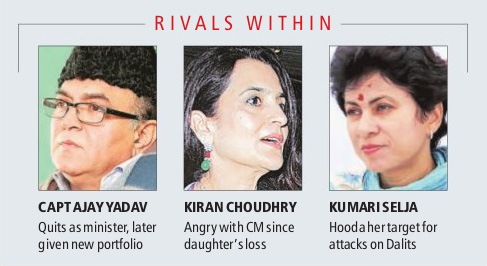 The watershed year was 2009, when the Congress, for the first time in 37 years, won a second consecutive assembly election in Haryana. Although the Congress tally in a assembly of 90 had come down from 67 to 40, Hooda's stature improved because of a number of reasons.
He won over seven independents to form the government. Of his rivals, Birender Singh had lost to Chautala, as had most of those who had got a ticket on his recommendation, and most of those recommended by Hooda's other major rival in the party, Kumari Selja.
The Congress nevertheless rehabilitated Birender Singh, a key Jat face, as general secretary in charge of Delhi, Uttarakhand and Himachal Pradesh, and he led the party to victory in the latter two states in 2012. By his account, he had been chosen as railway minister in UPA-2, but kept out because Hooda sabotaged his appointment. He had to make do with a CWC membership and a Rajya Sabha seat. "I had also been promised the post of chief minister by Rajiv Gandhi but his death changed everything in 1991 and Bhajan Lal snatched it from me," he says.
Rao Inderjit, MoS for External Affairs in UPA-1, too alleges that Hooda blocked a cabinet berth for him in UPA-2.
There are others equally upset with Hooda but who, it appears, would rather watch him cut to size from within. Captain Ajay Yadav recently resigned as power minister, complaining he knew nothing about his department because officers never took him into confidence.
"Hooda reduced a senior minister like me to a mere rubber stamp… The high command understands my potential. I am a six-term MLA, the most senior, and hence can be a possible chief minister," said Yadav, He has since been given the irrigation portfolio.
Others waiting to settle scores with Hooda include Excise and Taxation Minister Kiran Choudhry whose daughter Shruti lost in the Lok Sabha elections, and Selja, who keeps attacking Hooda for the government's failure to check atrocities on Dalits.
Hooda dismisses his opponents, saying: "They are camouflaging their own failures while accusing me of lopsided development and regionalism" (see interview).
Hooda's hopes in the elections hinge around the INLD's fall from grace following the conviction of Chautala and his son Ajay for fraud in recruitment of teachers, and the relative orgainsational weakness of the BJP in Haryana. He feels the Modi wave is on the wane. The influence of Rao Inderjit, nevertheless, has already given the BJP inroads in Ahirwal, a region where it had never done well before. And Birender, his defeat notwithstanding, is a veteran of four decades whose influence in Jind the Congress cannot afford to discount.
'They point fingers at me to camouflage their own failures'
Hooda dismisses his opponents and assesses his party's election prospects in this interview to Varinder Bhatia
The Congress fared poorly in the Lok Sabha elections. How do you see your prospects in the assembly elections?
A Lok Sabha election is not an indicator for any assembly poll. Haryana cannot be isolated from the rest of the country. It was a wave created in favour of one person and people voted for him. Nobody voted for the BJP's policies or vision. The BJP is one party that has never worked in the interest of the poor or for farmers. In the 2009 Lok Sabha elections, the Congress won nine out of 10 seats, while we only got 40 out of 90 assembly seats the same year, which is around 45 per cent. Assembly elections are contested on core and state-specific issues.
Your rivals including Birender Singh have been criticising you of lopsided development.
The Congress is a large national party and people keep joining and quitting. I would not like to pinpoint anybody, but those who quit, they do it for their own interests. People who are pointing fingers at me are doing so to camouflage their own failures. They are making such statements out of sheer frustration. They did not do enough for their constituencies in the last 10 years… I ensured inclusive development in these 10 years. Birender Singh was demanding 30 seats for his people in the assembly elections. I told the high command that he can be given all 90, provided he gives names of candidates who could win.
Will corruption charges raised by the opposition — the Robert Vadra land deals, land given to private builders, change of land use  — hurt the party?
There was no controversy until the media started creating such issues. What was wrong in Vadra's case? There was not an iota of error or favouritism on the state government's part. It was a deal between two entities and the state government got its full stamp duty and revenue… I can swear upon anybody that nobody from the Haryana government favoured Vadra or any other individual. Regarding giving land to private builders, I had said on the floor of the House too that I had not given an inch of land to any private builder. The state government has not acquired any land from any farmer to hand over to a private builder… If Ambani or any other individual comes to Haryana, enters into an agreement with a landowner for any price, how is the state government to be blamed for it?
You say that a wave created in favour of Narendra Modi led to the Congress's poor showing. How do you see the wave now?
I don't see the wave anymore. Talking of Narendra Modi, I appreciate him on one count. While campaigning for the Lok Sabha elections, in one of his public addresses in Uttar Pradesh, he mentioned that for judging development in any state, its per capita income is the indicator. I absolutely agree with him. He mentioned that UP's per capita income at that time was Rs 33,000, while in Gujarat it was Rs 75,000. I take pride in apprising him of the fact that the per capita income in Haryana is Rs 1.35 lakh.
For all the latest India News, download Indian Express App