At a time when the Congress should have been gearing up for the assembly elections in Haryana, the already depleted party is coping with the exit of more and more leaders and continued attacks on Chief Minister Bhupinder Singh Hooda from those who remain in the party.
Before the Lok Sabha elections, the Congress lost its former union minister Rao Inderjit Singh, besides chief parliamentary secretary Dharambir, former minister Ramesh Kaushik and former MLA Nripendra Sangwan, who was chairman of the Congress's ex-servicemen cell, all of these to the BJP. Rao Inderjit is now a minister in the Narendra Modi government while Dharambir and Kaushik too are BJP MPs. Former union minister Venod Sharma, an old friend of Hooda, meanwhile, left to float his own Jan Chetna Party.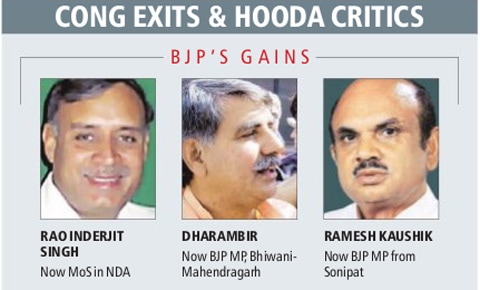 Then last week, four-time former MP Avtar Singh Bhadana quit and is reportedly negotiating with Om Prakash Chautala's Indian National Lok Dal. AICC general secretary Birender Singh, already stripped of his CWC membership after meeting BJP president Amit Shah, is set to be the next exit; he is expected to join the BJP on August 16.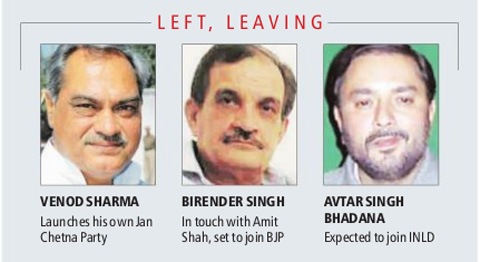 Most of them accused Hooda of "lopsided development" by focusing only on his home constituency of Rohtak, now represented by his son Deepender. They point at the prestigious projects Rohtak has got — an IIM, IIT, an AIIMS-like institute, National Cancer Institute, Global Centre for Nuclear Energy Partnership, National Institute of Food Technology, Entrepreneurship and Management, Rajiv Gandhi Sports Complex, Film and Television Institute, Institute of Hotel Management, Institute of Urban Planing and Architecture.
Besides the perceived discrimination in development, however, what has contributed to the disillusionment is the frustrated ambitions of several Congress leaders alongside the rise of Hooda, who has the central leadership's backing and is now the party's tallest leader in Haryana.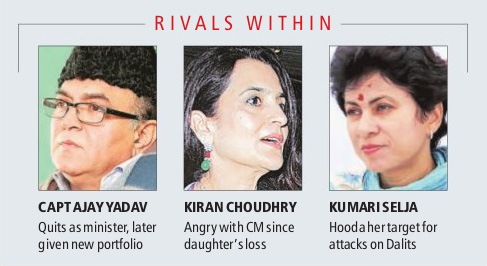 The watershed year was 2009, when the Congress, for the first time in 37 years, won a second consecutive assembly election in Haryana. Although the Congress tally in a assembly of 90 had come down from 67 to 40, Hooda's stature improved because of a number of reasons.
He won over seven independents to form the government. Of his rivals, Birender Singh had lost to Chautala, as had most of those who had got a ticket on his recommendation, and most of those recommended by Hooda's other major rival in the party, Kumari Selja.
The Congress nevertheless rehabilitated Birender Singh, a key Jat face, as general secretary in charge of Delhi, Uttarakhand and Himachal Pradesh, and he led the party to victory in the latter two states in 2012. By his …continued »