Is there a vikas vote? Healthier babies make not a whimper on campaign pitch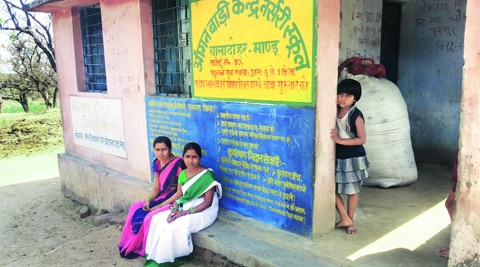 Village-level health intermediaries such as Manju Di and Amrita Devi have helped reduce Hazaribagh's infant mortality rate. (Photo: Vinay Sitapati)
are squabbling over credit for a shiny four-lane highway that has reduced the 95 km between Ranchi and Hazaribagh town to 90 minutes. But both ignore the health revolution in this constituency — despite the one desperate to showcase its grandiose national schemes and the other looking for some visible success to pin on its local MP.
Voters too appear ignorant. Jayant Sinha's wife Punita, who is reaching out to women voters, says: "Women I speak to are worried about contaminated water. But health is not something they are talking about." Geeta Biswas, a JMM zilla parishad head in Hazaribagh, is asked about changes in healthcare. Yes, she replies, Vitamin A tablets are easily available. The nurse shows up more often, and she is now on mobile phone in case of an emergency. Why aren't candidates talking about this?  "This is not political talk, it's personal".
At a campaign stop, Jayant Sinha approaches a family and sits on its low-string cot, nestling a baby on either thigh. Both children are stunted, visibly malnourished. "What are your problems?" he asks the father. "Give those children good education, the rest will follow," comes the answer. The health of his children is not something their father thinks is of concern to his candidate.
"This is because no parent blames the government for health, while they always think that education is a state responsibility," guesses chief secretary Sharma, when told of this incident. UNICEF's Zachariah argues that "roads and schools are visible, so people notice. But if your child is dying slowly from malnutrition, you only blame yourself". Dr Hedayetullah adds: "Public has low expectations of government health. What little change is there, public is happy".
Hazaribagh's battle against infant mortality is a distant echo in the bustle of electoral politics. Voters don't ask, politicians don't tell. The Indian Express asked Dr Hedayetullah when was the last time a politician visited his spruced up health centre. He said he'd prefer not to answer that question.