Is there a vikas vote? Healthier babies make not a whimper on campaign pitch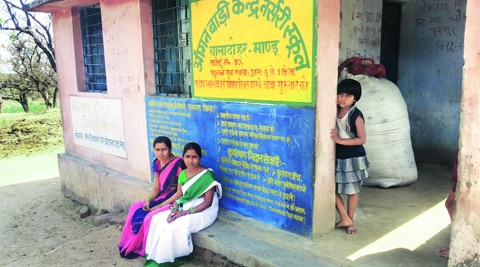 Village-level health intermediaries such as Manju Di and Amrita Devi have helped reduce Hazaribagh's infant mortality rate. (Photo: Vinay Sitapati)
birth in a hospital. The rest gave birth at home, which is risky," says UNICEF's Jharkhand head Job Zachariah. "Today, around 70 to 75 per cent of mothers give birth in a hospital." This change in what is termed "institutional delivery" is being driven by the free cash, transport, and medicine that the government is providing pregnant mothers if they give birth in hospitals.
The result is fewer children dead at birth. K Vidyasagar, who was Jharkhand health secretary until recently, adds, "We are also pushing pregnant mothers to come for checkups. Improvements in their health have changed the infant mortality rate." Asked what he did to make Jharkhand a particular success story, Vidyasagar replies: "Due to NRHM we have enough nurses and sayyas in a village. what we [the state government] did was monitor them. make sure they did their work."
Another factor is public awareness. Dr Bikram is one of four government doctors assigned to Mandu. He is impressed at how aware villagers have become of their rights. "A woman came to me recently, saying she saw on TV that the government was giving iron tablets free. Could she have some?"
'Nobody cares'
The Indian Express trailed the main candidates and voters in the constituency to check if this rapid drop in IMR has put health on the election radar.
Congress candidate Saurabh Narain Singh is a two-time MLA from Hazaribagh town and from the local royal family. The Indian Express met Singh at a sparsely attended rally in Gola village, where the Congress-propped chief minister, JMM's Hemant Soren, helicoptered in and stumped for Singh. Both advertised the funds Singh had procured for his MLA constituency — what Singh touts as "800 crore in just ten years".
But neither Singh nor Soren talk health, even though Hazaribagh has performed so well. Asked why, Singh replies: "To be frank, nobody knows about it, nobody cares."
Singh's main opponent is Jayant Sinha, a soft-spoken financial investor who is part of Narendra Modi's core campaign team. Rumours abound that he may feature in the new government in Delhi.
For Sinha combines uncommon talent — he is an IIT and Harvard alumnus — with more common dynastic politics: his father, former finance minister Yashwant Sinha, is the current MP from Hazaribagh. Sinha says his manifesto does include hospitals, and in his speeches he promises to combat chronic stunting. But when told of the IMR revolution in his district, Jayant Sinha was surprised, then swiftly added that this is in line with the development work by his father and himself.
Jayant Sinha hopes to ride the "Modi wave"; his campaign loudspeakers chant Modi more than Yashwant. The BJP currently has eight of 14 Lok Sabha seats from Jharkhand, and a local BJP politician anticipates that "we might get 12 this time". On Wednesday, Modi stirred a large crowd in three constituencies, including Hazaribagh. He spoke of roads, water and Manmohan Singh's accidental prime ministership. But he too was silent on health.
Both the Congress and the BJP are talking road and rail: they …continued »