Is there a vikas vote? Healthier babies make not a whimper on campaign pitch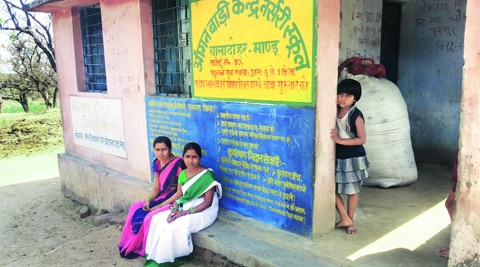 Village-level health intermediaries such as Manju Di and Amrita Devi have helped reduce Hazaribagh's infant mortality rate. (Photo: Vinay Sitapati)
The Indian Express travels to constituencies that have seen the sharpest improvement on various social indicators during the UPA years and finds out if that change is an election issue. We begin with Hazaribagh
Jharkhand is a state identified with its mafia, Maoists and mortality. But recent data suggests the last "m" is changing. Many districts are seeing sudden improvements in their infant mortality rate. One of these is Hazaribagh, where a royal is doing battle on Thursday with a political princeling.
Of every 1,000 children born, 29 under the age of one die every year in Hazaribagh, according to the latest results of the Annual Health Survey of the Indian census organisation. While high, this figure marks a whopping 22 per cent decrease in the infant mortality rate for the preceding three years, making it the district with the second highest decline among 304 backward districts. Many other Jharkhand districts are doing well, and the state has the lowest IMR among the nine surveyed.
The main cause of this improvement is a fourth "m" pouring into Jharkhand: money. Chief secretary R S Sharma says "I have worked [in these parts] for 36 years… what used to be spent on a district is now spent on just one panchayat." This money for health is coming from the UPA's flagship National Rural Health Mission. Conceived in 2005 without any particular political pressure, the NRHM has for just this year a budget of Rs 21,239 crore.
In comparison, NREGA gets only 1.5 times that amount but many times more publicity. As former health secretary Keshav Desiraju, who coordinated NRHM until recently, said, "This kind of expenditure on health has no precedent in India. Ever."
Funnelled through the corridors of Lutyens Delhi, these funds are changing the lives of mothers and children thousands of miles away. Mandu block is a cluster of villages in Hazaribagh, dusty hamlets by the Ranchi-Hazaribagh highway. Its 2.5 lakh population is served by a mere four doctors and 13 nurses. The children milling around the main health centre are stunted, with the distended bellies of the chronically malnourished. But the buildings are freshly painted, and Dr Syed Hedayetullah, the medical officer in charge, is enthusiastic. NRHM funds have allowed him to construct more buildings, buy medicines for free distribution, and hire 643 medical intermediaries called sevikas and sahiyyas.
These intermediaries, from the same village, bring their ill, malnourished or pregnant neighbours to the government health centre in return for cash incentives. In just the last eight years, the number of health workers in this one village has grown around thirty-fold.
This money and the muscle are leading to changes that are saving babies. "Even 10 years ago, only around 30 per cent of mothers gave …continued »