Gujarat model, built by many hands, marketed with one face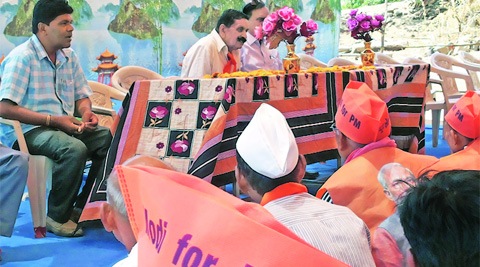 BJP candidate Prabhatsinh Chauhan addresses a meeting in Panchmahal. (Vinay Sitapati)
Definitely. Modiji did it," the MP from Panchmahals says when asked if his constituency has 24-hour electricity. The BJP's Prabhatsinh Chauhan is speaking to a group of maize farmers here, selling the Modi model as part of his re-election bid. He credits improvements in roads, handpumps, and power in this village to just one man. Bharadwaj, a young farmer, waits for the parade of SUVs to leave before providing a reality check. "We all have a connection, but for four hours a day power doesn't come." Bharadwaj will still "vote for Narendra Modi" on Wednesday. "[At least] he talks about it… The Congress did nothing for us. Now we are getting something."
The Panchmahals district in Gujarat has some of the state's worst development indicators, and has been designated "backward" by the Ministry of Panchayati Raj. In 2001, only 33 per cent of houses here used electricity as their primary source of lighting. But the district is failing to live up to that reputation. The Indian Census records that by 2011, 89 per cent of all houses had access to electricity, the biggest jump in any district of Gujarat and probably India. The Modi-led state government claims that the district now enjoys "24-hour, three-phase electricity", like the rest of the state. As Modi touts this "Gujarat model" throughout his campaign, The Panchmahals is a good place to test the Modi model of development.
Asked how the power situation has improved so, Manisha Chandra, the district collector, explains: "I have never once encountered political interference. Funds are not an issue. The only issue is our ability to use." Her eye is on the wall ahead. Mounted there is a large video terminal on which the training of district election officials is being beamed live from various locations. This terminal is used for the chief minister's virtual meetings with district officials. "MLAs and MPs can't walk into our office to demand cuts for their contractors. Modiji does not allow that," adds a bureaucrat in charge of public works.
MP Chauhan explains The Panchmahal's success with: "We are a tribal district, so we focused on giving electricity to tribals, and got money from schemes [for tribals]." He also credits the state scheme Jyotirgram Yojana and "Modiji's idea" of two separate electricity feeder lines in villages — one for households with paid 24-hour electricity, the other for farmers with subsidised intermittent power.
The Aam Aadmi Party's Piyush Parmar contests the 24-hour claim. "Come to Godhra on Tuesday," he says, "and you will see a power cut". He adds: "Last week I was at a meeting 90 km from here [Godhra city]. the current went out".
Collector Manisha Chandra puts these stray power cuts down to "transmission loss.. since we have [enough] power in the state." To solve that, Chandra says "in the last two years, we …continued »