Giriraj again: Questions 'silence of pseudo-secularists' on terror arrests
Earlier, three FIRs were filed against Singh after he said that those who oppose Narendra Modi should go to Pakistan.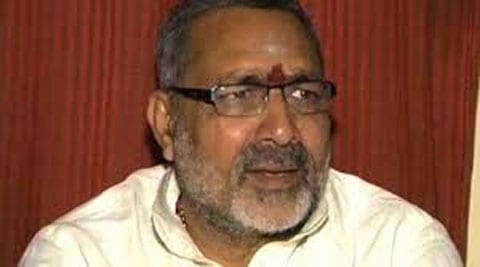 BJP leader Giriraj Singh.
SENIOR BJP leader Giriraj Singh on Wednesday questioned the silence of some "pseudo secular" leaders when "terrorists belonging to a particular community" are arrested.
Earlier, three FIRs were filed against Singh after he said that those who oppose Narendra Modi should go to Pakistan. Asked about his stand on Singh's statement, Modi, in an interview to Times Now's Arnab Goswami, had said, "If I didn't protest (against Singh's comment)… didn't oppose it through the internal mechanism, don't you think it would have continued? Hasn't it stopped? That means I have taken action."
On Wednesday, Singh said, "Though I hold that terrorism is not related to any community and is an issue concerning the nation, why do some pseudo secular leaders go into silent mode when terrorists belonging to a particular community are arrested… There should be no place for terrorism and those having sympathy for Pakistan."