Gehlot sulking, his defence falls on Pilot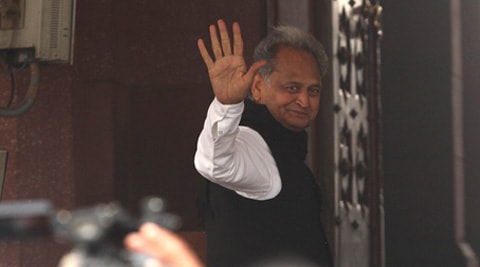 Gehlot has been sulking since the high command sidelined him following the rout in the assembly polls. (Express Archive)
At a time when newly appointed Rajasthan Pradesh Congress Committee chief Sachin Pilot is grappling to pull the party out of the pits ahead of the Lok Sabha elections, former chief minister Ashok Gehlot has been maintaining a distance from party affairs. Last week, as Pilot rallied for smooth implementation of the ambitious Barmer oil refinery and Jaipur Metro projects initiated by the Gehlot government, the former CM himself was absent.
Sources in the party say Gehlot has been sulking since the high command sidelined him following the rout in the assembly polls. Though he has been making perfunctory rounds of the party office in Jaipur once in a while, and visiting his constituency on and off, Gehlot has by and large stayed away from most of the important meetings and poll-related activities including the preparations for the Congress primaries in Bikaner and Jhunjhunu.
Even when Chief Minister Vasundhara Raje slammed Gehlot, calling his schemes and projects "unprofitable for the state" and accusing him of irresponsible spending, Gehlot did not stand up to defend himself. Not only has Raje been vocal about her disapproval of Gehlot's pet projects but her party too has moved a breach-of-privilege motion in the assembly accusing him of deliberately misrepresenting figures in the 2013-14 budget. BJP legislator Rao Rajendra Singh has alleged that Gehlot showed a revenue-surplus budget when in reality the state was in deficit, and also accused him of wrongly showing a fiscal deficit less than 3 per cent.
With Gehlot silent and on the backfoot, it is Pilot facing the task of justifying the previous Congress government's schemes and also enthusing the party cadre across the state. In feedback meetings held by Pilot so far, angry party workers have complained against Gehlot and his aides for ignoring them. Senior party leaders who were present in the meetings told The Indian Express that the party workers complained they have felt left out and sidelined by the state leadership for years. "The party workers came across as angry as well as disappointed with the old guard. The steam has built up over five years and it will take time for them to regain trust," said one party leader.
Pilot's Jan Chetna rally last week attempted to bring the party workers back to the streets for spirited protests and rallies. A 5-km walk in the heart of the city saw Congress workers agitate against the state government for ignoring "pro-people projects" such as the Barmer oil refinery, the Jaipur Metro, free medicine and social pension.
"Thousands of crores of rupees have been pumped into the oil refinery and Metro projects and the newly elected state government cannot just leave them in the lurch. It was only after we agitated by holding …continued »