Gap between Left, TMC narrowing: Buddhadeb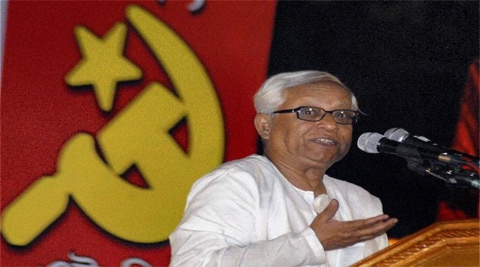 Singur has ruined the future of Bengal. She (Mamata Banerjee) is responsible for all that happened, Bhattacharjee remarked. (PTI)
Describing the Lok Sabha poll as "very important" for the Left, former West Bengal Chief Minister Buddhadeb Bhattacharjee claimed the vote gap between the Left and the Trinamool Congress was narrowing.
"If you analyse the results of the 2011 Assembly poll, you will see that the gap of votes between the left and TMC was just 30 Lakh and that gap is decreasing in our favour," he told PTI.
The CPI-M politburo member said his party was trying to get back those who left it and expressed confidence that the Left Front would do well in the election.
Asked to give an idea of how many seats his party will win in the Lok Sabha poll from the state, he said, "How many seats, I cann't say. We are trying to win as many seats as possible. We feel this election is very important for the left. Left is the only guarantee to protect interests of the people".
Reminded that the TMC had scored decisive victory in panchayat and municipal elections, he said, "What happened in the last panchayat and municipal elections was not popular support. They (TMC) had created problems before and during the election. We have decided to resist their terror tactics in the Lok Sabha poll."
"We have also seriously reviewed our position since the last Assembly poll and tried to find out where we have failed. Our introspection is that there were indeed some mistakes for which a section of our supporters left us. That is the most crucial issue. We are trying to win them. A section of them are realising. We are openly telling them what were our mistakes," he said.
Strongly pitching for industrialisation, Bhattacharjee said, "They (TMC government) have failed to create new job opportunities. No single investment came here in the last three years. You know what happened in Singur. Jindals have left."
After Wipro came, Infosys had said that it would come and together about 90,000 job opportunities would have been created. But nothing is happening now", he said.
On the rectification drive in the CPI-M, Bhattacharjee said, "It is a long-drawn process. It will take some time. We are working in the right direction. We will not compromise on this issue. We will take party workers into confidence. We are a democratic party".
Asked if the expulsion of minority leader Adbur Rezzak Mollah from the CPI-M would affect its poll prospect, the veteran leader said, "I don't think so. It will help improve the health of the party. The communist party should be a disciplined party based on ideology."
Commenting on the performance of the TMC government, the former chief minister said, "It is zero on all fronts, be it industry, agriculture, law and order, health or education. No road, no power station, no bridge, no hospital. Nothing is happening. Only there are stone-laying ceremonies. It is ridiculous," he …continued »