Gandhinagar thrust on sulking Advani, Modi given Vadodara as back-up seat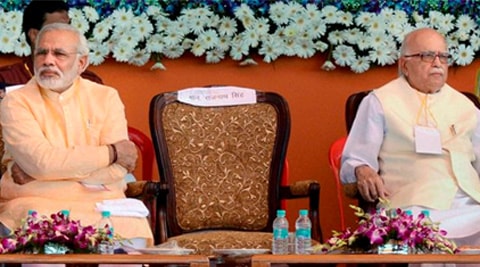 Advani's desire to move from Gandhinagar was raised during the meeting but Modi was learnt to have shot down the suggestion. (PTI)
brief party president Rajnath Singh and are believed to have told him that Advani continued to insist on Bhopal. Advani is learnt to have told them that he too should be allowed to pick the constituency of his choice like some others in the party.
Sources said the leadership is worried that it would be faced with a problem if the Madhya Pradesh unit recommends Advani's name for Bhopal and may have to turn to the RSS again to resolve the imbroglio.
Amid these developments, Modi called on RSS chief Mohan Bhagwat who is in the capital.
Totally, the BJP CEC declared 67 candidates, including 21 each from Gujarat and Rajasthan, 15 from Uttar Pradesh, three from Bihar and two from Maharashtra.
Prominent names included yesteryear Bollywood star Hema Malini (Mathura) and former Olympian Rajyavardhan Rathore (Jaipur Rural). While Hema Malini will be contesting against former prime minister Charan Singh's grandson Jayant Chaudhary of the RLD, the Olympian will be contesting against Congress general secretary C P Joshi.
The CEC withheld tickets to five seats in Gujarat and four in Rajasthan with party leaders claiming that some more work was needed to finalise these names.