Gandhinagar thrust on sulking Advani, Modi given Vadodara as back-up seat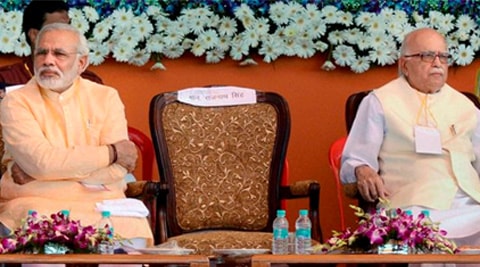 Advani's desire to move from Gandhinagar was raised during the meeting but Modi was learnt to have shot down the suggestion. (PTI)
A new crisis was sparked in the BJP Wednesday after the party's central election committee pushed veteran leader L K Advani to contest the Lok Sabha elections from Gandhinagar despite his new desire to shift to Bhopal.
Although the poll panel went ahead and announced his name for the Gujarat capital, sources said the sulking former deputy prime minister skipped the meeting and continued to insist on moving to Madhya Pradesh. The panel announced that the party's prime ministerial candidate Narendra Modi would contest from Vadodara as well.
Until about a fortnight back, Advani was keen to continue representing Gandhinagar — a seat he has won five times — and had even made public statements to the effect. However, he seemed to have developed a fear in recent days that he may not get the wholehearted support of BJP cadre in the constituency as he had opposed the rise of Modi on the national stage last year.
Madhya Pradesh is ruled by Advani loyalist Shivraj Singh Chouhan and Advani is believed to have told party chief Rajnath Singh Tuesday about his desire to move to Bhopal.
The issue was taken up Wednesday by the BJP parliamentary board that met ahead of the CEC. Sources said Advani's desire to move from Gandhinagar was raised during the meeting but Modi was learnt to have shot down the suggestion saying the Gujarat BJP unit had unanimously recommended Advani's name for Gandhinagar.
Advani had first opposed Modi being named the party's chief campaigner for the Lok Sabha elections and subsequently its prime ministerial candidate. He had for the first time skipped the party's national executive in Goa and had also offered to quit all party posts before he was brought around with the help of the RSS.
On Wednesday, he went into a sulk again and skipped the marathon central election committee meeting that approved 67 candidates. However, top party leaders did not seem to be in a mood to give in and went ahead and announced his name for Gandhinagar.
They also rubbed the hurt in by holding up tickets for two of his loyalists – seven term MP Harin Pathak from Ahmedabad East and former minister Jaswant Singh from Barmer – while declaring candidates for most seats from Gujarat and Rajasthan.
On the other hand, the poll panel generously gave tickets to people who had joined the party newly such as former Congress member Jagdambika Pal (Domariyaganj), NCP leader Vijay Kumar Gavit's daughter Heena Gavit (Nandurabar) and JMM leader Vidhyut Mahto (Jamshedpur).
In an apparent attempt to assuage Advani's sentiments, senior leaders Sushma Swaraj and Nitin Gadkari met him after the CEC meeting even as the party withheld announcing its Bhopal candidate. They returned to …continued »