Gandhi family insulted Ambedkar, taking credit for laws: Narendra Modi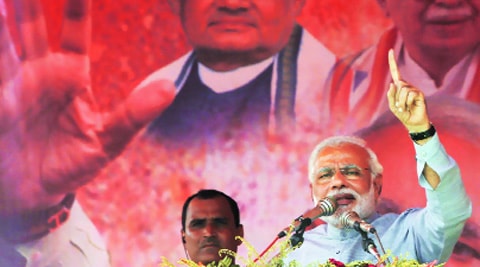 ll the rights and laws have been given to us by Ambedkar, said Narendra Modi. (PTI)
are torched.
"Even after 60 years of independence, 70 per cent of Dalit women are illiterate. Is this the kind of government you want," Modi said.
Accusing the Centre of siphoning off coal, the BJP Prime Ministerial candidate said coal is kept out of the house and even beggars don't steal coal but "this Delhi government has stolen coal as well."
Taking a dig at the SP-led state government, he said a bull had not allowed Mulayam Singh Yadav's helicopter to land in the city for a rally. "Netaji aur unke suputrajee (Mulayam Singh Yadav and his son Akhilesh Yadav), you are such a strong and big state government, it is not just humans who are unhappy with you, even bulls are unhappy with you. I am worried that if you cannot handle a bull, how will you handle the lions from Gujarat," Modi said.