From ULFA to LS, first non-Bodo MP from Kokrajhar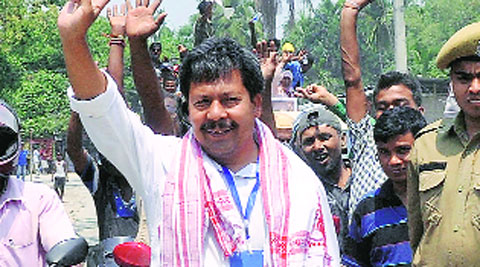 Support for Sarania is said to have triggered the recent attacks on Muslims. Express photo: DASARATH DEKA.
Till about six weeks ago, Naba Kumar Sarania, 48, was an important leader of the United Liberation Front of Asom (ULFA). A close confidant of ULFA's armed wing chief Paresh Barua, he was better known as Hira Sarania and was the "commander" of the group's 709 Battallion. Today, Sarania is a member of the newly-elected Lok Sabha, having won from the Kokrajhar seat.
Sarania is the first non-Bodo to be elected from Kokrajhar, and that too by a margin of over 3.55 lakh votes. In fact, according to reports, it was the overwhelming support for Sarania that triggered the attacks on Muslims in Baksa and
Kokrajhar earlier this month, allegedly by the Bodoland People's Front (BPF), leaving nearly 50 dead.
"I don't want to live in my past. I believe more in the present and the future," said the former militant, who was expelled by the ULFA's pro-talks faction on April 7 for contesting the elections. This despite the fact that Sarania played a crucial role in facilitating the return of ULFA chairman Arabinda Rajkhowa from his Bangladesh hideout in 2010.
According to Sarania, he was a candidate by accident. "I was always worried about the non-Bodos in Bodoland. So when I thought of contesting the elections, all the non-Bodo groups rallied behind me," he said. The Sarania-Kachari community shares common roots with the Bodos, and is included in the ST list.
Sarania, the eldest of four brothers and two sisters, dropped out of college to join the ULFA as a local level overground political worker in 1988. "I was an introvert, but was getting increasingly disgusted with the system and the exploitation of Assam by New Delhi. When I was doing my BA at Tamulpur Barnagar College, I got drawn to the ULFA, which had by then almost shaken the government," he recalled.
He soon took charge of the district unit. In 1996, Barua inducted him into the armed wing, and Sarania rose to the level of "commander" of the 709 Battallion in 2002. He played a crucial role in setting up the ULFA's base in Bhutan (his native village of Dighilipar is on the Bhutan border in Baksa district), which was busted by the Royal Bhutan Army with the help of the Indian Army in December 2003.
"I don't regret that I dropped out of college and spent so many valuable years in the ULFA. I think I learnt a lot, especially about the condition of the common people who lived in my area of operation. I come from a poor family. My house is still made of bamboo mat walls," said Sarania, whose father Lakhikanta Sarania was with the Assam Rifles.
Asked about his action plan as MP, he said, "Well I still do not know how much parliament can do. More than six decades, and Assam does not seem to have benefitted as expected. That was exactly why we were in ULFA. But while I am not going to parliament with any ULFA agenda, my primary responsibility will be towards the people of Kokrajhar constituency."
For Sarania, winning from Kokrajhar makes his position very delicate. While the 70 per cent non-Bodo voters supported him, he cannot afford to ignore the Bodos too. "I am everybody's MP and I believe in peaceful co-existence of all sections of people in Kokrajhar, Chirang and Baksa, the three Bodoland districts that together with parts of Barpeta, Bongaigaon, Goalpara and Nalbari districts comprise Kokrajhar Lok Sabha constituency," he said.
Interestingly, the new MP from Kokrajhar is not in favour of a separate Bodoland state. "How is that possible when non-Bodos constitute over 70 per cent of the population? Non-Bodos have suffered enough in the past 20 years. Now is the time to reconcile, and I will seek cooperation of the Bodo society in establishing a politics of adjustment," said Sarania.
On the issue of Bangladeshis, he said, "Yes, there are Bangladeshis. But it is for the law to detect and deport them. I don't believe in such politics which only keeps the Bangladeshi issue alive for electoral gain. Like some people tried to link the recent Bodoland attack on Muslims to Modi. There was no Modi speech linked to the recent violence… But having said this, I am not trying to say that I will support the BJP-led NDA. If the BJP does good for Assam and my constituency, then I will certainly help. My primary issue is safety and security of people in Bodoland."