From repoll to censure, EC takes its own sweet time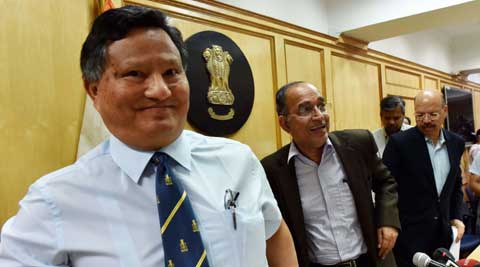 Chief Election Commissioner V.S. Sampath, with Election Commissioners H.S. Brahma (left) and Nasim Zaidi. ( Source: PTI/File )
On May 13, the Election Commission of India ordered a repoll in eight polling booths in Mewat, in the Gurgaon Lok Sabha seat, more than a month after the constituency had voted. The repoll was held on Thursday, a day before counting.
n The same day, the EC advised Punjab Chief Minister Parkash Singh Badal "to be careful in future" for asking people to fund his election campaign "quietly". Polls in Punjab got over on April 30.
THESE two instances almost sum up the manner in which the Election Commission (EC) conducted the 2014 Lok Sabha elections. If this election will be remembered for the bitter political battles, it will also be remembered for the EC's laidback approach in dealing with issues that needed a faster, decisive response.
There were allegations of largescale rigging, malfunctioning Electronic Voting Machines (EVMs), names missing from electoral rolls and complicity of polling staff in electoral malpractices. While the EC responded in many of these cases, the action seemed too little and too late.
Soon after Haryana went to polls on April 10, the EC received complaints of largescale rigging in Mewat. The EC took over a month to order a repoll, that too after the exit polls were out.
"I don't understand this delay. I don't know why it took them over a month to decide on a repoll," said former Chief Election Commissioner S Y Quraishi, agreeing that the exit polls could influence the repoll.
Deputy Election Commissioner Alok Shukla, in-charge of polls in Haryana, said, "The inquiry took time because of the nature of the complaints. The decision to hold a repoll is not delayed because the repoll happened before the final counting of votes." He said repolls in several constituencies that voted on May 12 were also held on Thursday.
Similarly, the EC's warning to Badal came almost two weeks after polling concluded in Punjab, although the complaint against him was lodged on April 12. The EC said it did not find Badal's response "satisfactory" and that he had violated the provisions of the model code of conduct, but the warning served little purpose as the polls were over.
Except for barring Amit Shah, Azam Khan and Giriraj Singh from campaigning after they made inflammatory speeches, the EC limited itself to issuing advices, censures and expressions of "displeasure" to those who violated the model code.
While this is not the first time that the EC has come under attack from political leaders and parties, the manner in which it responded to such attacks in the past was different.
Consider these:
2012 Uttar Pradesh assembly polls: The then Law Minister Salman Khurshid talked of providing nine per cent reservation to minorities within the existing quota of 27 per cent for OBCs. After the EC's censure, he said …continued »