From Marandi vs Soren to Deora vs Sanyal: Top 5 battles in Lok Sabha polls Phase 6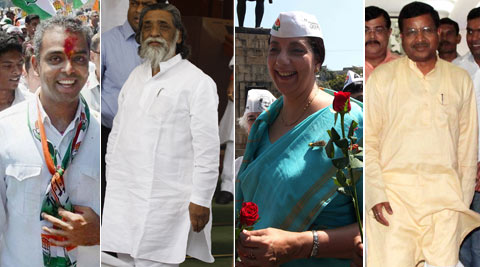 Phase 6 of Lok Sabha polls has thrown up some interesting battles which are being witnessed with great interest.
The race to the Lok Sabha has already crossed the half way mark as we have entered phase 6 of the nine-phased General Elections. Fate of several heavyweights have already been sealed and quite a few significant and interesting battles have already been fought. Just like the previous few phases, even phase 6 has thrown up some interesting battles which are being witnessed with great interest, either because some heavyweights have been pitted against each other or because some controversial faces are probably contesting their toughest political battles.
Here's a look at the top 6 battles from across the country.
1. Babulal Marandi vs Shibu Soren (Dumka, Jharkhand)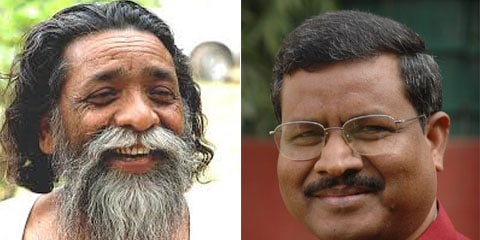 This is a battle of not just any two heavyweights, it is in fact a battle of two former chief ministers who hold a significant place in the history of Jharkhand. While Shibu Soren was the face of the struggle for creation of Jharkhand, Babulal Marandi was the first chief minister of the state and believed to be the most credible face to sit on that chair. Babulal Marandi, who was earlier the face of the BJP in the state, later parted ways with the party to constitute his own party, JVM-P, over ideological differences. His tenure as the Chief Minister of Jharkhand is considered by many to be the best among all. On the other hand, JMM patriarch Shibu Soren is said to be a major driving force for the creation of the state. He was, however, later also criticised for his alleged 'thirst for power'. Currently, Soren's son Hemant Soren is the Chief Minister of the state.
2. Milind Deora vs Meera Sanyal (Mumbai South)
Meera Sanyal, a known face from the banking industry, has been pitted by Arvind Kejriwal's Aam Aadmi Party against incumbent Milind Deora, a young face of the Congress party. Interestingly, the campaigns of both the leaders have focused on development in the constituency – while Deora has claimed to have developed the area like no other leader did in the past, Sanyal has claimed that Mumbai South has not received its due under the Congress leader. With educated urban voters, the constituency of Mumbai South has thrown up a high-profile battle with development at its core.
3. Karti Chidambaram vs Pr Senthilnathan vs Dhurai Raaj Subha (Sivaganga, Tamil Nadu)
Sivaganga has been the constituency of senior Congress leader and Union minister P Chidambaram, who decided not to fight this time and fielded his son Karti Chidambaram. Karti is pitted against Pr Senthilnathan of the AIADMK and Dhurai Raaj Subha of the DMK. The battle in Sivaganga assumes significance because 2009 was not a smooth ride for P Chidambaram. He was declared winner only after re-counting of votes. It was alleged by a section of political fraternity that the senior Congressman had resorted to rigging to win from the constituency.
4. Mehbooba Mufti vs Mehboob Beg (Anantnag, Jammu and Kashmir)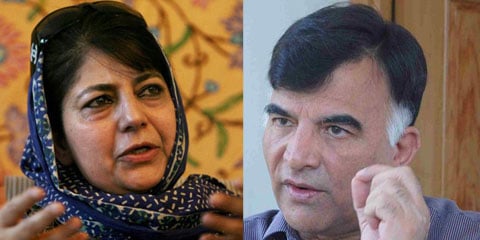 PDP chief Mehbooba Mufti, who has never lost an election in south Kashmir, is facing a tough contest this time against National Conference's Mirza Mehboob Beg, who is the sitting MP from Anantnag. While Mufti is the daughter of PDP patron Mufti Mohammed Sayeed, Beg is the son of Mirza Afzal Beg, the late leader who was instrumental in the Indira-Abdullah accord of 1975 which paved the way for the return of National Conference to power in Jammu and Kashmir after 22 years. The PDP chief had won the Anantnag seat in 2004 but did not contest in 2009, when Beg won the seat against  Muhammad Hussain by a small margin of 5,200 votes.
5. A Raja vs Gopalakrishnan C (Nilgiris, Tamil Nadu)
A Raja, who has been elected to Lok Sabha for four times since 1996, is probably facing his toughest battle. The battle is not tough because of any heavyweight pitched against him, but for the fact that the 2G scam controversy may haunt the prospects of the DMK leader this time. Back from Tihar jail, Raja has made all efforts to retain his seat, even expressed confidence of victory, but the 2G case seems to have at least some impact on his electoral prospects. AIADMK has fielded Gopalakrishnan C against Raja.