Updated: February 20, 2014 5:58:46 pm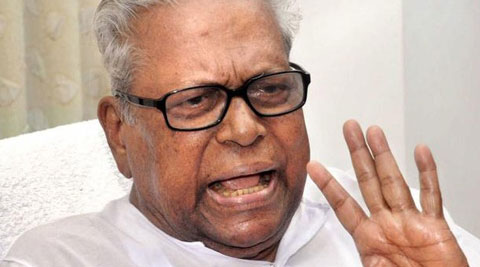 CPI(M) stalwart V S Achuthanandan today rejected AAP leader Arvind Kejriwal's invitation to him to join his party, saying it only betrayed the latter's ignorance of the long political struggles he had waged based on Marxism-Leninism.
The nonagenarian leader was reacting to Kejriwal's statement during a television interview yesterday that he would welcome Achuthanandan to his party and the support of honest leaders like him would strengthen the anti-corruption campaign in the country.
"It seems that Kejriwal had not properly understood my politics and my struggles based on the philosophy of dialectical materialism and Marxism-Leninism. If he was aware of that, he would not have made such a statement," he told reporters here.
Achuthanandan said Kejriwal's colleague Prashant Bhushan knew well his stand as he had often made his position clear during interactions with him as a lawyer engaged to fight his legal battles against corruption.
The CPI(M) leader also took a dig at reporters, saying "you should not have asked this question to me since you know that I have a clear political position."
For all the latest India News, download Indian Express App