Former IPS officer, tribal leader to take on Pawar's daughter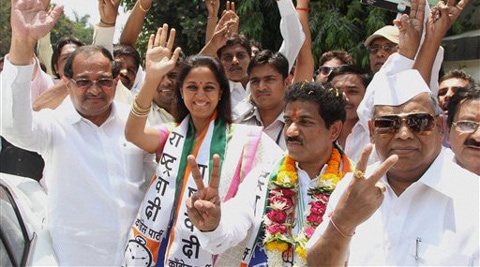 NCP candidate Sanjeev Naik alongwith NCP leaders Supriya Sule and other party workers during a roadshow in Thane, Mumbai on Friday. (PTI)
A former IPS officer and a tribal leader are seeking to break Pawar dynasty's stranglehold over the Baramati Lok Sabha constituency by unseating NCP supremo's daughter Supriya Sule when people vote on April 17.
Pawar, who represented the seat in Parliament six times, shifted himself to Madha constituency in Solapur district in 2009 and handed over the seat to Sule who had won from there with a massive margin of over 3 lakh votes in the previous election.
Seeking re-election, Sule is locked in a triangular contest against Mahadeo Jankar, a tribal leader fielded by Shiv Sena-BJP-RPI alliance in Maharashtra, and Suresh Khopde, a former IPS officer, who is Aam Aadmi Party's (AAP) nominee.
The constituency, which comprises Daund, Indapur, Purandar, Bhor, Baramati and Khadakwasla assembly segments, has about 16 lakh electorate.
Representing a dominant chunk of rural voters, laced with a lone assembly segment of semi-urban populace, the seat has
always been in the focus during elections for the perceived lopsided development, observers say.
"The topography of the region is not conducive to good rainfall. But no efforts have been spared by me, Pawar sahib (Sharad Pawar) or Ajit dada (Ajit Pawar who won the elections from here in 1991) to solve the problems relating to water paucity, electricity and road network to spur development of the area," says Sule, seen as Pawar's political heir in national politics.
For first time entrant AAP, its candidate Khopade, well-known in the state for his study on police reforms, is seeking votes to break political dynasty.
"We are here to oppose families traditionally controlling politics in the country. AAP is fighting the elections in order to change the political system and empower the common man, giving him a voice in the decision making process," says Khopade.
Candidates have been raising the tempo with 'padayatras' and door-to-door canvassing in the constituency.
"This constituency presents a picture of lop-sided development with only Baramati assembly segment, which is home town of the Pawars, reaping benefits of the available MP's local area development fund.
"Other five assembly segments are left high and dry, deprived of basic amenities such as adequate water supply and proper roads. The Pawars have failed to ensure balanced growth of the constituency," says Jankar, who belongs to the dominating backward shepherd community in this region.
Interestingly Jankar, who represents Rashtriya Samaj Party (RSP) in the Shiv Sena-BJP alliance, had fought and lost the last Lok Sabha election from Madha against Sharad Pawar.
Banking on the general anti-Congress-NCP sentiment in the state stemming from allegations of corruption and irrigation scam, the saffron alliance is, however, hoping to win the contest this time.
"As sitting MP, Sule has hardly bothered to solve the water problem being faced by farmers in the region and offered only lip sympathy. The Pawar family has only perpetuated a dynastic domination to the detriment of the common man's welfare," alleges Vijay Shivtare, a Shiv Sena MLA from the region.
According to observers, though the …continued »