For Modi security detail, SPG to arrive in Gandhinagar today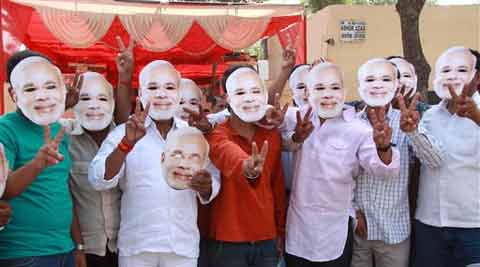 The SPG has to work out a plan to give security to Modi's family that lives in two different places in Gujarat. (Source: PTI)
Following victory of Gujarat Chief Minister Narendra Modi in the Lok Sabha election, his security cover will be upgraded to Special Protection Group cover, which is enjoyed by the Prime Minister of the country.
The SPG officials are arriving in the state, with a small team in Gandhinagar, on Saturday to discuss the security cover for Modi till he is sworn in as the PM.
SPG, the nodal agency for security in the country, will also extend  security to Modi's family. His mother Hiraba lives in Gandhinagar, while his wife Jashodaben lives in Unjha. Confirming the same, State DGP PC Thakur said, "We are in touch with the SPG and they are coming here to discuss the security cover in detail. The SPG cover would be given only after he is sworn in as the PM, and till then the NSG cover will continue. However, the SPG will give additional cover till procedures are over in these few days. After that they will take the full charge of their security."
The SPG has to work out a plan to give security to Modi's family that lives in two different places in Gujarat. The SPG Act will, however, not cover his brothers and sisters, although they would be given not less then Z category security, sources in Gandhinagar added. The SPG will consult Modi to shift Jashodaben to Gandhinagar, where the SPG can set up its base to provide security to her if she doesn't stay in New Delhi, sources in Gandhinagar confirmed.
Jashodaben's residence in Unjha, a small town in Mehsana district, is not equipped to host SPG personnel for security cover. Modi enjoys the highest rank of Z+ security of NSG commandos. However, after the blasts during a political rally in Bihar, the state government had sought a SPF cover for Modi.
When the Centre had refused to upgrade the NSG to SPG cover, the state government had created a special team, comprising its own officers, headed by an IGP rank officer, to provide security cover for Modi's rallies and public gatherings. The team, consisting of personnel of ATS, crime branch, special branch, CID, intelligence, bomb and dog squad and several other agencies of the state police, has been guarding Modi for almost a year, after being announced as the PM candidate for the BJP. The team travelled ahead of Modi's arrival and took stock of surveillance and security layout to make necessary changes after assessing threat perceptions.
An official from the state Home Department said, "Considering the sensitivity and threat to Modi, SPG officials are consulting the Gujarat government and Gujarat Police on taking extra measures that need to be taken while guarding Modi and his …continued »