For Dalits, BJP offers a choice other than Maya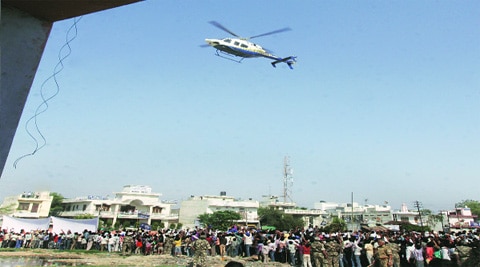 Mayawati's helicopter arrives at a western UP rally site. Renuka Puri
Rajendra Jatav, 65, sits near the Guru Ravi Das temple at Ravidas Colony in Noorpur of Nagina, a reserved seat in Bijnore. He's returned from Mayawati's first rally in western Uttar Pradesh Thursday and will vote for her, but he is not happy with her.
It was from this colony that Mayawati had begun her campaign in 1989, when she won her first Lok Sabha seat. "She was different then," Jatav recalls.
The colony too has changed. Then, it was a sprawling, disconnected series of shanties, sandwiched between Nagina's largest mosque and a Sikh colony. Today, the drains have been covered, the roads well laid, the houses concrete and recently painted. "She came here and said, 'I am a Dalit, I am single, I am yours'. A lot of work has been done here, but she is no longer ours," Jatav says.
Most Jatavs, the predominant sub-caste in Bijnore and Nagina, say they will vote for Mayawati, a Jatav herself. But the growing dissatisfaction with Behenji finds resonance not just in Bijnore and Nagina but also in neighbouring Muzaffarnagar. And the BJP is eager to capitalise on this.
Amit Shah, Narendra Modi's man in UP, met Dalit leaders of Kairana, Muzaffarnagar and Saharanpur in Muzaffarnagar city. "Both the BSP and the BJP have given 17 Dalits tickets in UP. So how is Mayawati a champion of Dalits?" he told them.
On Friday, Mayawati visited Muzaffarnagar for the first time since the riots and said at a rally that she had wanted to come earlier, but couldn't because she had information that the Samajwadi Party would use her presence to instigate violence, and blame the BSP for it. She appealed to Muslims not to let their vote be divided.. "The BSP already has the Dalit vote," she said and with these 3.5 lakh votes, she argued, it could defeat the BJP.
But the communal tension still simmering under the surface has changed equations. "The BSP has more bearded people than Dalits," says Shyamveer Kumar, a Dalit who lives in Muzaffarnagar city. "This election is not about Jats and Jatavs, but Hindu and Muslims. I am a Hindu and my vote will go to the BJP."
In Kairana, the BSP has fielded Kunwar Hassan and the SP his nephew Nahid Hassan. The BJP has fielded riot-accused legislator Hukum Sungh, who is looking to capitalise on the divided Muslim vote. In Muzaffarnagar, the BSP has fielded Kadir Rana and the BJP Sanjeev Baliyan, both accused of inciting communal tension.
The absence of a Dalit candidate, combined with polarisation, has left the BJP hopeful of consolidating the Hindu vote across castes. "They (Hindus) believe the BJP is the party to vote for, because they're tired of both the BSP and the SP attempting to woo the Muslims," says Mohit Beniwal, a BJP youth leader of Kairana.
In Bijnore, the BSP's Maluk Nagar …continued »