For all Didi's benevolence, not all Muslims are behind her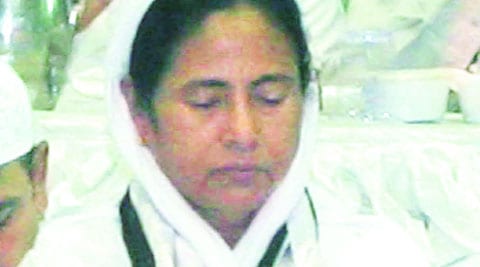 Mamata at a Muslim function. (File)
If there are two planks on which West Bengal chief minister Mamata Banerjee has built her brand over the last three years in power, they are her anti-Left credentials and her "secular" identity. But for all the minority schemes and the chief minister's photo-ops at Muslim gatherings, Muslims in the state — who form 27 per cent of the electorate — remain sharply divided in their electoral preferences. While polarisation may cost Trinamool some Hindu votes, the party may find it tough to make up for the loss by becoming a rallying point for Muslims.
Trinamool, among other things, is battling anti-incumbency, the Saradha scam and its own NDA past on the Muslim front. Estimates suggest 30-40 per cent of duped Saradha investors were poor Muslims living in areas not served by the banking sector. Banerjee's late outburst against Narendra Modi notwithstanding, a slew of local factors can undo her Muslim outreach initiatives.
Urdu posters across the state bear testimony to West Bengal government's recognition of the language as an official medium and the stipend to imams and muezzins may have been among the government's most talked about schemes. In her meetings, Mamata is not just publicising these, she's adopting the community's ways, including occasionally reciting the kalima. But her party does not have a Muslim leader with the kind of mass base that Forward Bloc's Kalimuddin Shams once was for the Left Front.
Both Congress and Left retain some of their traditional support bases in the community — the former in the Urdu-speaking pockets and the latter among Bengali-speaking Muslims. There are newer players in the battle for Muslim votes. Assam perfume baron Badruddin Ajmal's  AIUDF has for the the first time fielded candidates in eight seats. The Aam Aadmi Party has some support among Muslims in Barrackpore and Raigunj where there is a substantial non-Bengali population. Strong Muslim candidates in many seats where they are an electoral force, would mean division of votes — in Basirhat with 65 per cent Muslim voters, five of the nine candidates are from the community.
"The Trinamool government has worked," is the refrain among Muslims across the state. But scratch below the surface and the party's poll prospects don't seem all that certain. Not even the nostalgia about the Vajpayee years — many in the community speak fondly of the former prime minister — can assuage lingering doubts about Mamata's post-poll plans about NDA. Says Azizul Sheikh, a teacher in Krishnanagar, "The Trinamool has worked. If this was a state election, we would have voted en masse for Didi. But there are bigger national questions at stake here. The Trinamool may now be calling Narendra Modi names but it was part of NDA in 2002. After the elections, she may feel inclined towards BJP. The question to tackle here is who is better equipped to arrest Modi's rise at the Centre."
Others raise …continued »